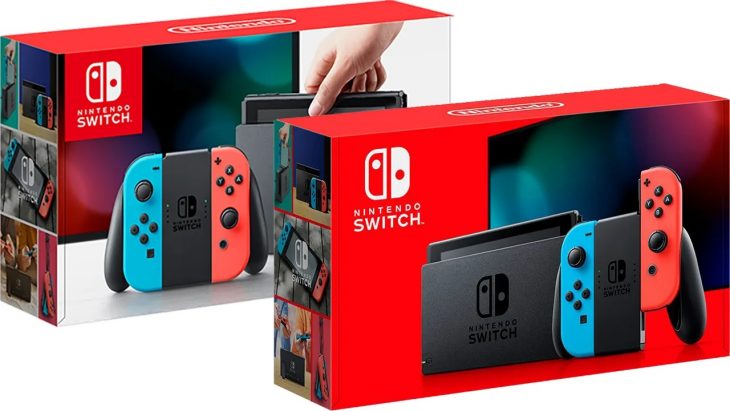 Both Amazon and Best Buy are now selling the new and improved Nintendo Switch model. Best Buy is offering $25 extra trade-in credit for anyone desperate to get their hands on the new console and willing to trade their old one in.
The new Nintendo Switch model uses different components to the base model. The biggest improvement over the base model is, according to Nintendo, a dramatic improvement in battery life.
Nintendo says that the improved Nintendo Switch model's battery life should put it at between 4.5 and 9 hours, compared to the base model's battery power between 2.5 and 6.5 hours. When compared to the upcoming Switch Lite's battery life of between 3 and 7 hours, this improvement is even more impressive.
Unfortunately it seems as though this battery life increase may not be as much as Nintendo make it out to be. A Hong Kong youTube channel named MeeMeGame Channel has tested the new model playing The Legend of Zelda: Breath of the Wild, a Nintendo Switch launch title. The new model lasted only 5.5 hours playing the game, and had 60 percent battery life left after playing just 2 hours of Fire Emblem: Three Houses in portable mode, a brand new Switch release.
Currently GameStop is running a promotion that allows consumers to trade in their old launch model Nintendo Switch for $225, up from the previous trade-in offer of $200. This brings the cost of the new model down from $300 to $75, a much more palatable price for upgrading a console model.
However, despite the new technology used in this new model, which allows the console to run cooler and have a brighter screen, it's nowhere near comparable to the PlayStation 4 Pro or Xbox One X.
This is still very much a secondary console, but it's a more powerful option for those who want an improved home console, whilst those who want an improved handheld one can upgrade to a Nintendo Switch Lite later this year. The Nintendo Switch Lite combines the console and Joy-Con units into one piece of hardware, running all games in handheld mode at a smaller and more portable size.