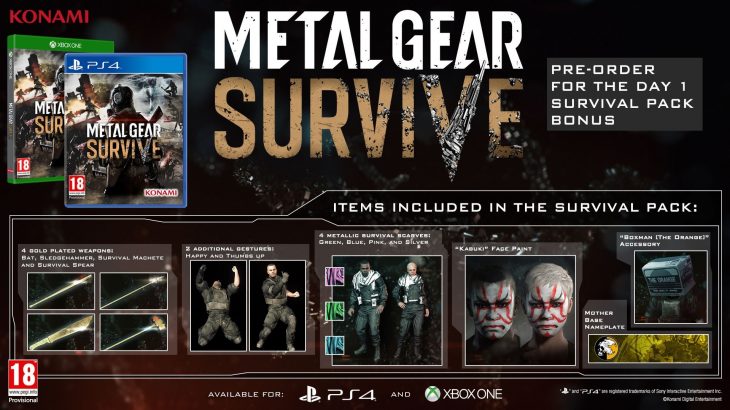 Konami teased an announcement for their upcoming title Metal Gear Survive yesterday. Today, via the Metal Gear Official Twitter page, they announced the game's release date.
Metal Gear Survive is now slated for launch on the 20th of February 2018 in the US, and the 22nd of February 2018 in the EU for Xbox One and Playstation 4. This news will be a welcome surprise for those looking forward to the game's release since Konami had given a release date of early 2018 when they first revealed it.
Alongside the release date announcement Konami revealed that the game is available for pre-order right now, and anyone who does can get the Day 1 Survival Pack bonus. The items included in the Survival Pack are; 4 gold plated weapons including a bat, sledgehammer, survival machete, and a survival spear. 2 additional gestures are included, thumbs up and happy, as well as the 'Kabuki' facepaint. The Boxman (The Orange) accessory is also included along with the Mother Base nameplate. Finally the pack also comes with 4 metallic survival scarves in pink, blue, green, and silver.
Konami also revealed some new screenshots of Metal Gear Survive. In these screenshots we can see some new details about the game that haven't been officially discussed before. One screenshot shows a player hunting animals, hinting at the possibility that it will be necessary to hunt for food for all those living in the player's base.
Another screenshot shows a new enemy variant that hasn't appeared in any gameplay videos. This enemy has an enlarged head and what looks like armour all over it, making it appear much harder to kill than the normal enemy variants shown so far.
Metal Gear Survive is a spin off from the Metal Gear Solid series based after the events of Metal Gear Solid: Ground Zeroes, prequel to Metal Gear Solid 5: the Phantom Pain. A number of people are sucked into a wormhole that takes them to an alternate universe where they must build Mother Base up from its ruins and survive against the zombie-like enemies that occupy this universe. Players will build their base up much in the same way as they didn in Metal Gear Solid 5, but there is the added threat of being at constant risk of attack from the roaming enemies of the world.