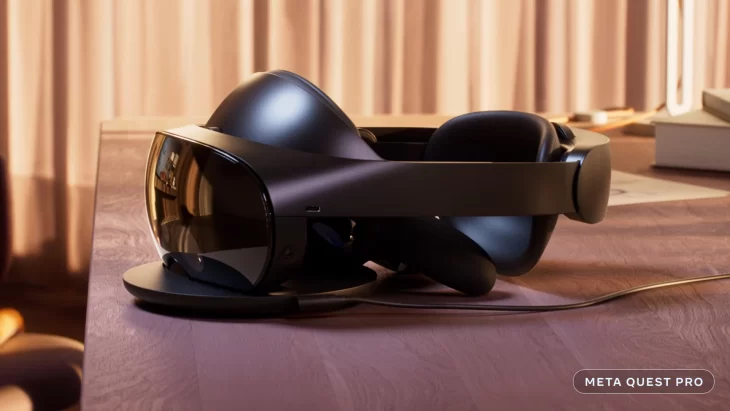 Image credit: Meta
The Meta Quest Pro has finally been unveiled during the most recent Connect Keynote that took place on October 11, 2022.
Tech giant Meta, formerly known as Facebook, are entering into the premium hardware market with the $1,499 VR headset. Launching October 25, 2022, it touts some impressive features such as facial and eye tracking, 256 GB in storage and optical lenses that are 40% lighter than the previous build. Improved controllers now feature self-tracking and are priced at $300. Additionally, these are backwards compatible with the Quest 2.
Meta Quest Pro will also be backwards compatible with the full library of apps and games available for Quest 2. This feature is sure to please fans, especially considering the recent announcement from Sony that their PSVR2 will have no backwards compatibility.
Microsoft also got a nod at the conference with Meta expressing that they plan to add Windows apps and Microsoft Teams to their VR devices, expanding their social and functional features.
The mixed reality was also discussed as a new feature of the Meta Quest Pro. Commonly referred to as Augmented Reality, this technology will allow users to augment virtual objects into the real world, blending together Meta's reality with reality itself. This feature adds more credence to the Microsoft partnership as AR has been a big developmental focus for them for years with their Hololens headset.
Microsoft decided to follow up on this announcement with one of their own the next day. On October 12, 2022, they confirmed they plan to add Xbox Cloud Gaming to the Meta Quest Pro, enabling users to play games wherever they are on a virtual screen with an Xbox Controller.
All of this goes to show that these tech giants are gearing up to plant their flags and claim the future of virtual space as their own.