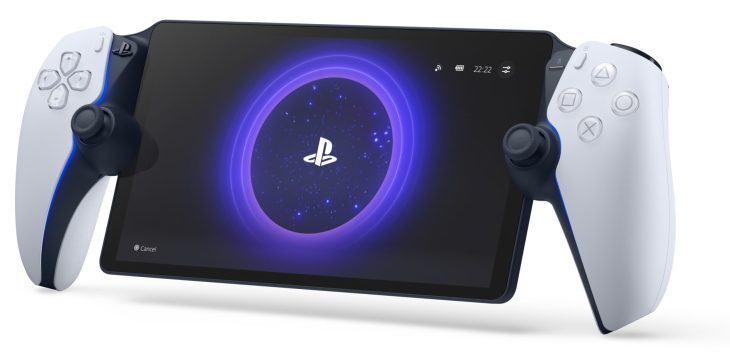 Sony has revealed its upcoming PlayStation Portal, its new dedicated remote-play device. PlayStation Portal won't be a standalone handheld system like the Nintendo Switch or PSP, but instead will simply allow PlayStation 5 users to play games that are already installed on their consoles.
The PlayStation Portal's main appeal is the ability to play PS5 games handheld without the need for a TV screen. All players will need to do is connect the PlayStation Portal through Wi-Fi with their PS5 console.
Featuring an 8-inch LCD screen with 1080p display capabilities as standard, Sony has assured players that the PlayStation Portal will run smoothly at resolutions of 60fps. The Portal will also facilitate a 3.5mm audio jack port for wired audio headphones, to provide that extra level of immersion while playing, as well as support for the DualSense controller.
In the reveal, Sony also listed the regional retail prices for the PlayStation Portal. The remote device will go on sale in the US and the UK for $199.99 and £199.99 respectively. In Europe, it will launch at a price point of €219.99, and ¥29,980 in Japan.
In addition, Sony also revealed two new audio devices. The Pulse Elite wireless headset will feature AI-enhanced noise rejection capabilities and a charging hanger, at a cost of $149.99. The Pulse Explore wireless earbuds will also feature the same AI noise-canceling technology, a charging case, and a price tag of $199.99.
Although not giving an official release date, Sony is scheduled to launch the PlayStation Portal later this year, with more information regarding the official release and pre-order options coming soon.
In regards to game support for the PS Portal, almost all games will be compatible with the device at launch. The only games not supported will be PS VR2 games that require the VR headset and titles which are streamed through PlayStation Plus Premium's cloud streaming.
The PlayStation 5 console, the PlayStation Portal, and the Pulse Explore and Pulse Elite earphones will all connect to one another seamlessly with the new wireless connectivity feature, the PlayStation Link. The Link will provide next-level wireless audio technology, low latency, and lossless audio.
So, what do you think about the PlayStation Portal announcement? Will it be enough to rival the likes of the Nintendo Switch and Valve's Steam Deck? Or by just being a remote playing device and not an actual handheld system, does it fall short of the mark?

Related Topics:
PlayStation 5
,
PlayStation Portal
,
Sony
---