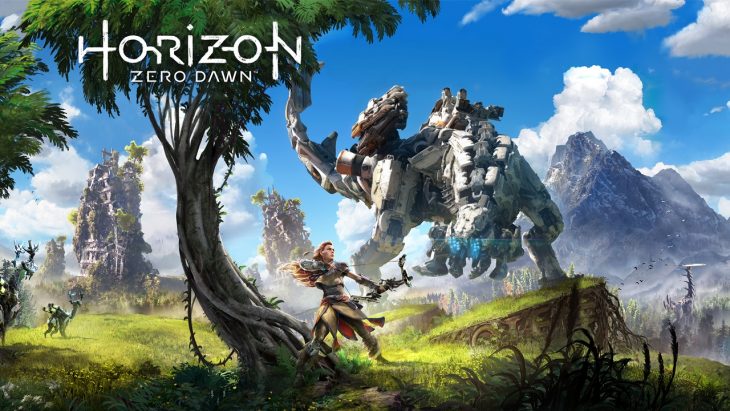 Editor for the Killzone Community, Victor Zuylen, published a post on the PlayStation blog celebrating the first birthday of Horizon: Zero Dawn. This year has gone by so fast for Guerrilla Games, according to Zuylen, because they've been having so much fun with the Horizon: Zero Dawn community and the content they've been creating for the game.
Since it launched at the end of February in 2017, Guerrilla Games have released a number of free updates to the game that have spurred fans on to love it even more, and even create content of their own. Photo Mode led to experts in the field, Cosplayers took to Aloy like ducks to water, and the game's DLC launched, leading to the release of Horizon: Zero Dawn Complete Edition.
The latest news is that Horizon: Zero Dawn has now sold 7.6 million copies worldwide. This makes it the best-selling new franchise launch on PlayStation 4. Co-founder and Managing Director of Guerrilla, Hermen Hulst, said that the company were thrilled with the success of Horizon: Zero Dawn, affirming the effort they put in to create this fantastic new world for players to explore.
In celebration of the game's first birthday and this new sales milestone it has hit, Guerilla are giving away a free Avatar Bundle and Photo mode for use in the game. The package also contains some of the fan art that Guerilla believe ranks among the best out there.
A new video has been produced starring the Music Supervisor for Horizon: Zero Dawn, Lucas van Tol. The video explains how the developers created not only the music in Horizon: Zero Dawn, but also the instruments that players see characters playing in the game. The video was prompted by Horizon: Zero Dawn's recent award for best Main Theme at the VGMO annual game music awards.
For the whole of March the PlayStation Store will be running a promotion that gives customers 25% off on PlayStation Gear, specifically the Modern Icons Aloy statue. Horizon: Zero Dawn Complete Edition will also be discounted on the PlayStation Store, 30% for customers and 35% for PlayStation Plus subscribers, until the 6th of March 2018.
The developers are planning to bring out more celebratory content over the month, but tell fans to stay tuned to social accounts for news of what they will be bringing to the game and those fans.