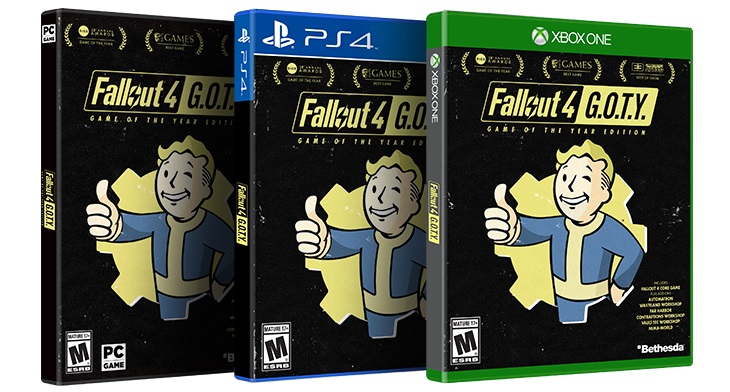 Bethesda invite fans of Fallout 4 to return to the wasteland and all expansions in Fallout 4 Game of the Year Edition, releasing on September 26, 2017. The game will also include all updates that have been released such as Survival Mode and all graphical updates.
Fallout 4 Game of the Year Edition will include the base Fallout 4 game, which features the ability to download and apply mods to the game on both PC and Xbox or PlayStation 4 consoles. The core game takes players on a journey through the Boston Wasteland as they explore a terrifying new world in which an unknown force is replacing people with advanced machines who aren't aware of what they are.
The Game of the Year Edition also includes every expansion for Fallout 4. Automatron introduces a new storyline and area for players to complete, ending with a new homestead which can be used to create some incredible machines as part of another expansion, Wasteland Workshop.
As part of the workshop expansion players are able to create machines for the automation of recycling, or the production of energy to help protect their homestead, and they can be as complicated as they player's imagination demands. This is added to with the Contraptions Workshop with improves the number of machines and parts that can be created to truly free the player in their creations.
The Vault-Tec Workshop expansion adds even more story for players, but the real draw is the ability to create your own Vault-Tec vault. Here players can take on the role of the company with questionable morals and experiment on wastelanders who respond to the call of a new vault that offers them all the comforts of home.
The Far Harbor expansion is one of the largest story based expansions in the Fallout series, adding a new island to explore, new groups to encounter, and many new quests to discover and complete one way or another.
Finally, the edition also includes the Nuka-Cola World expansion. This adds new workshop options for players to tinker with, as well as a fully-fledged story that helps players understand the famous and mysterious Nuka-cola company.
In North America Bethesda is also releasing a limited number of Fallout 4 Game of the Year Pip-Boy Editions. This edition of the game comes with a replica Pip-Boy that players can wear as they play. The gauntlet fits most smartphones in the screen space, and through a Bethesda app players can link their phone and game to allow them to access their in-game inventory via their phone in real time.