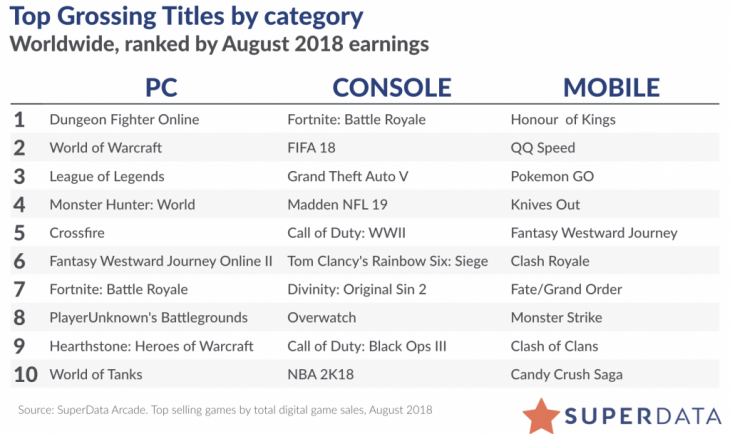 The global digital games market has seen growth throughout August 2018. The market saw digital spending increase by 7 percent year-on-year to $8.47 billion. Of this growth Free-to-Play console games and Pay-to-Play PC games were the core drivers, with Fortnite being a key player on console and World of Warcraft the main title on PC. The growth seen in these segments offsets the drop in revenue from Free-to-Play PC games and Social games, a decrease of single-digit proportions.
Madden 19 set a new record for the franchise after experiencing the best launch of a game in the Madden series ever. The game sold 664,000 units digitally on console, and it's thought that the game sold far better this year in particular because of an earlier release date than usual.
League of Legends has been in decline over the last month. In August 2018 the game saw a drop of 21 percent in revenue year-on-year, leading to the game heading towards the worst year it's seen since 2014. While the MOBA genre is far from dying there is definitely more of a focus on Valve's game, Dota 2, which took place over the month and most-likely had something to do with the decrease in revenue for League of Legends.
The latest expansion for World of Warcraft, Battle for Azeroth, performed extremely well, generating $161 million over the month. This revenue doesn't include sales of the expansion prior to August. Battle for Azeroth has pushed subscribers up to their highest numbers since 2014. Expansions always lead to returning interest in World of Warcraft, but so far Battle for Azeroth looks as if it will retain more of the players it's attracted than previous expansions.
The PC launch of Monster Hunter World went as well as the console launch did earlier this year. Capcom's biggest entry to the Monster Hunter franchise was the top grossing PC game in the digital PC chart. It sold so well in fact that it pushed PUBG down to second place. Another release in the Monster Hunter franchise saw a re-release for Nintendo Switch in the form of Monster Hunter Generations Ultimate in August as well, which could have had some impact on the continued success of Monster Hunter World.