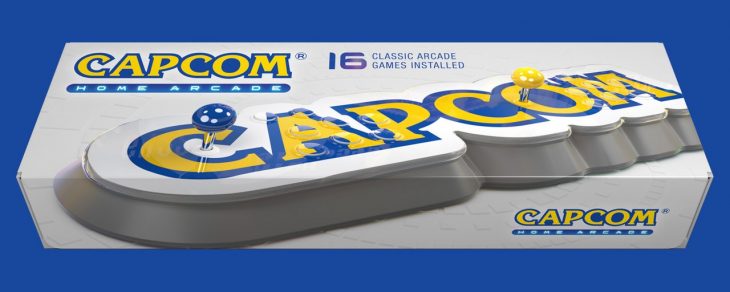 Capcom have revealed a brand new plug-and-play system, the Capcom Home Arcade. The machine is packed with 16 classic Capcom titles from what they call the golden age of gaming.
The Capcom Home Arcade is Capcom's own mini console, built to compete with units such as the PlayStation Classic, and SNES and NES Mini consoles. The new console launches on the 25th of October 2019, and is styled after the company's own logo in yellow and blue. The console itself is the Capcom logo, with buttons and two joysticks built into it to create a classic arcade controller feel.
Capcom said in a press release that the console allows the classic titles it's sold with to be played as was intended. The games can be played solo or in co-op, with the controls allowing for precise response times and durability.
Players will be able to break the high scores in each game on the Capcom Home Arcade, and have the ability to upload them online to worldwide leaderboards in order to see how their scores compare to those of players around the world.
The 16 games included with the Capcom Home Arcade are: Super Puzzle Fighter 2 Turbo, Strider, Progear, Mega Man: The Power Battle, Street Fighter 2: Hyper Fighting, Giga Wing, Ghosts 'n Ghouls, Final Fight, Eco Fighters, Darkstalkers: The Night Warriors, Cyberbots: Fullmetal Madness, Captain Commando, Capcom Sports Club, Armoured Warriors, Alien vs Predator, and 1944: The Loop Master.
The aspect that sets the Capcom Home Arcade apart from other mini consoles is price, but not how you'd expect it to. While other mini consoles have retailed for around £100, the Capcom Home Arcade will sell for the £200 region, putting it at almost the same price as the upcoming Xbox One S All-Digital Edition.
Capcom are just the latest company to release a mini console, with Nintendo and Sony having already done so. Sega will join the ranks of platform holders and publishers with mini consoles on the market on the 19th of September 2019 with a Sega Mega Drive Mini. While most mini consoles pack in about 20 games, the Sega Mega Drive Mini boasts a roster of 40, setting it apart as a mini console.