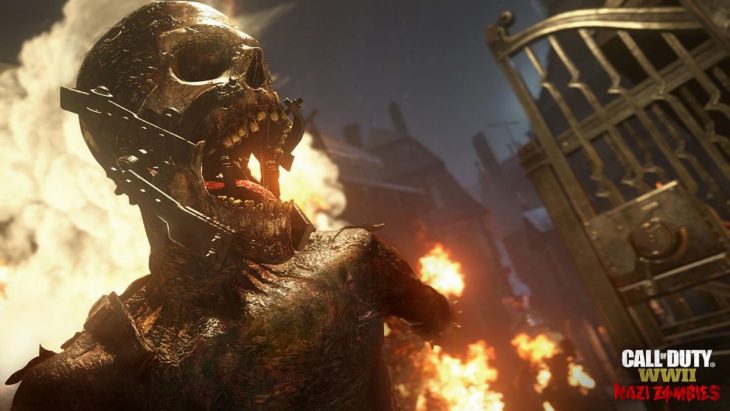 After a small leak earlier in the week, Call of Duty: WW2 Zombies Mode was now officially revealed. The latest iteration of the Horde Mode staple has been given a new twist that's both refreshing as well as familiar.
Activision showed the first reveal trailer for Call of Duty: WW2 Zombies mode at San Diego Comic-Con yesterday. Very little was known about the mode until then, because Activision have been working hard to keep it a secret, although by now fans know to expect a Zombie mode in all Call of Duty titles.
The mode is officially titles Nazi Zombies. It was already known that David Tennant( Dr. Who), Udo Kier (Blade, Elodie Young (Daredevil), and Kathryn Winnick (Vikings) are starring in the mode, but now Ving Rhames (Pulp Fiction) has also been confirmed to be voicing, and possibly appearing as, a character in the game.
Nazi Zombies tells the story of an international team who are sent to uncover the secret experiments of the Axis, who are trying to master the power of the occult forces in order to create a new and invincible undead army. Co-Founder of Call of Duty: WW2 developer Sledgehammer Games, Glen Schofield, told press that Nazi Zombies is unlike anything they've ever done before. They're taking players to darker and more horrific places than in any Zombie Mode, exploring the deep mythology of what the Axis may have done in pursuit of supernatural power.
Call of Duty: WW2 takes players back to the roots of Call of Duty. Over the last two console generations shooters have seen a change of scene from wars set in the past, World War One and World War 2 for example, to current and now even fictional wars set in the future. Call of Duty: WW2 brings back the classic setting that all shooters were based in at one point, and now we know that the legions of the undead have made the transition as well.
Call of Duty: WW2 launches for Xbox One, Playstation 4, and PC on November 3, 2017. Players who pre-order gain access to a beta that takes place in August. Sadly a Switch version is not in the works for Call of Duty: WW2, as was confirmed earlier this year.