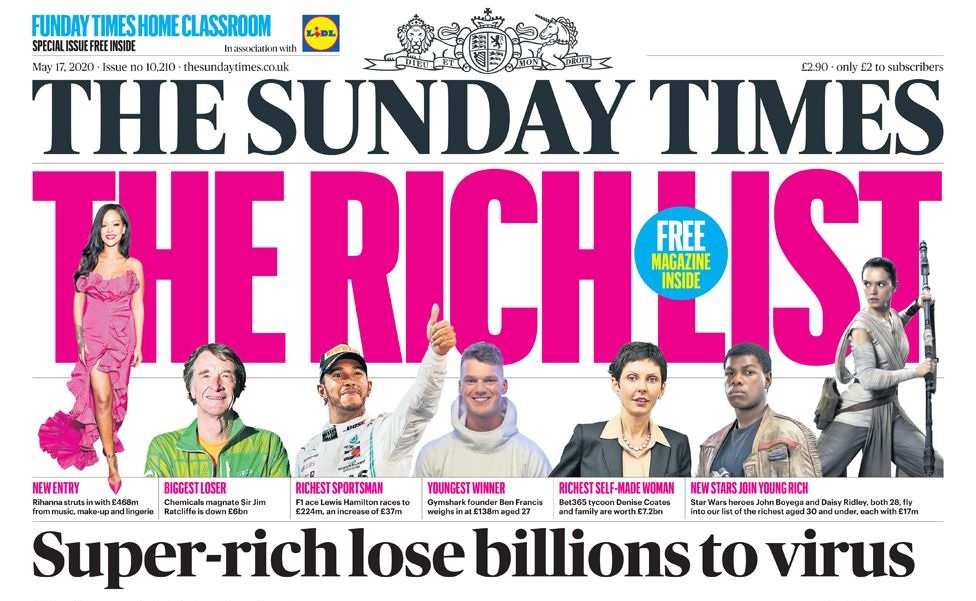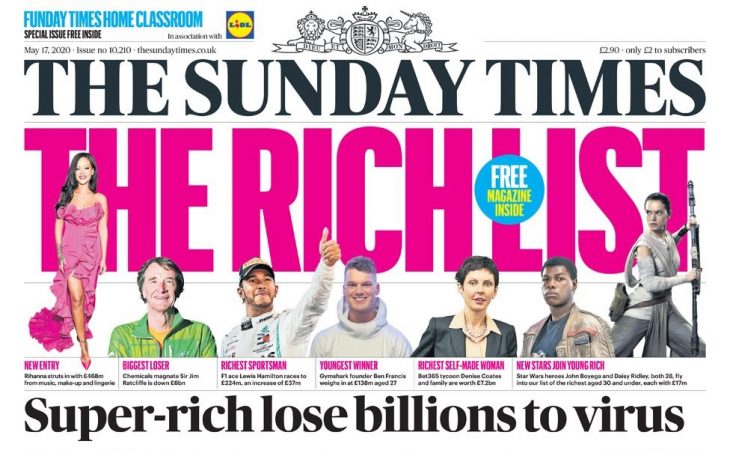 Nine video game multi-millionaires can be found in the Sunday Times' Rich List 2020, a list of the wealthiest people in the UK that is published by the newspaper once per year.
There are a total of 1,000 entries in the Rich List, which makes the nine that can be identified as video games figures seem a little underwhelming. However, six of these people have seen their wealth increase over the past year, and one of them is a brand new entry to the list for this year.
Among the top names in the list was Mel Morris, the Co-Founder of Candy Crush and the company that owns it, King. Morris' worth was said to be £515 million, up by £15 million since the Rich List report for 2019. Morris placed 267th in the list.
The next video game name on the list was in 320th place, Riccardo Zacconi, who is the CEO of King. Zacconi is said to be worth £410 million, which is also up by £15 million compared to the Rich List 2019.
Another name that was connected to Candy Crush and King was Sebastian Knutsson, the designer of the Candy Crush Saga. Knutsson ranked at 540th place in the list, with a wealth of £225 million, which has increased over the past year by £5 million.
Two other video game professionals in the list were Sam Houser and Dan Houser, Co-Founders of Rockstar Games. They made it into the top 500 in 418th place, with a wealth of £310 million, up by £10 million since last year.
The Co-Founder of UK retailer GAME, Neil Taylor, sits in 533rd place in the list with a wealth of £230 million. His fortune remains unchanged since last year, which is an encouraging sign given how much the retailer has struggled.
The new video game entry for the Rich List was Debbie Bestwick, the Managing Director for Team17. Her wealth was reported to be £196 million, landing her in 638th place.
Further down the chart were David Braben and Wendy Irvin-Braben of Frontier Developments. The pair have a combined worth of £182 million, which is up by a staggering £50 million since last year.
The Founders of 4J Studios, Chris van der Kuyl and Paddy Burns, are the video game people who round out the industry's presence in the Rich List this year. The pair are the Co-Founders of the studio, which helped bring Minecraft to console. They both landed in 805th place, and are said to have a wealth of £150 million each, which was the same last year.
While the Rich List also counted Simon and Yu-Lin Wilson, placing 783rd with a wealth of £156 million, the pair are the Co-Founders of InTouch Games, which specializes in casino and bingo games, which aren't directly related to the other video games people on the list.