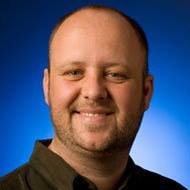 Aaron Greenberg is the General Manager of Microsoft Studios marketing group and Head of Global Product Marketing for Xbox first party games, third party titles, and Xbox Entertainment Studios. He has held this position since June 2014, and is responsible for creating and coordinating the messaging for new Xbox games and the Xbox Entertainment Studio's projects. Prior to being appointed to this position he was the Chief of Staff of Microsoft's Interactive Entertainment division, a position he has held for nearly three and a half years. He was at the forefront of the two-stage reveal for the Xbox One in 2013 and has been a major player in the Xbox world ever since.
Aaron prioritizes the Xbox fan base when working on new games and the online support and gaming community. By putting the fans first when making strategic decisions for the business, Aaron believes that ultimately "…you will largely make the right decisions."
He is also a prolific Twitter user. Swing over to his profile and one can find a plethora of great information on current and upcoming game releases from Microsoft. You can also find Aaron on Xbox Live as BIGVIP.
---
Jobs
| From | To | Organization | Position |
| --- | --- | --- | --- |
| June 2014 | Present | Microsoft | Sr. Director, Studios Marketing Group, Global Product Marketing Xbox 1st & 3rd Party Games |
| October 2011 | May 2014 | Microsoft | Chief of Staff, Office of the President |
| | | | |
Links and Profiles
LinkedIn: Aaron Greenberg
Twitter: @aarongreenberg
Giantbomb: http://www.giantbomb.com/aaron-greenberg/3040-2788/
---
Related News and Articles
---