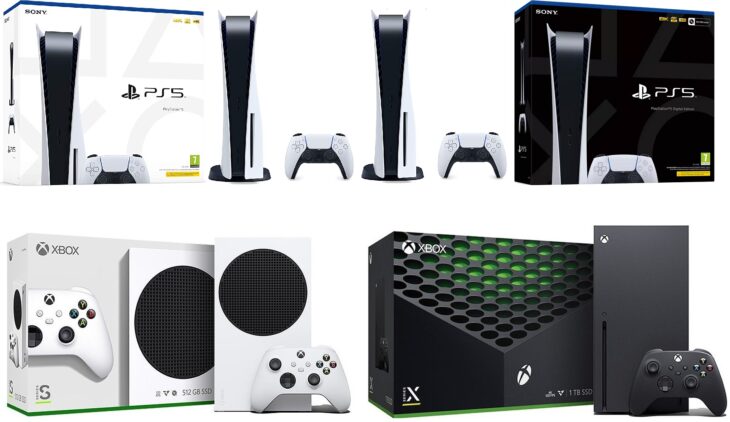 Now that both the PS5 and Xbox Series X and S are out in the wild, there's a choice that many consumers have to make. Deciding which console to go with might be easy or difficult for several key reasons, but for those on the fence there's actually quite a lot to consider.
Power
There's very little in the difference between the power of these two consoles. However, extensive tests have been performed across all consoles to find the true answer. In most cases, the PS5 beats the Xbox Series X, though this is purely based on numbers. Whether you can actually see the difference with your eyes is another matter entirely. Both are capable of displaying games at 4K resolution, so if this is the deciding factor in a purchase, it's all still to play for.
Games
The second-biggest factor, or maybe even the first biggest factor really, in choosing which console to pick up is, of course, the games available on each of them. The PS5 has a fantastic lineup of launch games, though it's quite small. Demon's Souls is clearly the best game to play on the PS5. It takes advantage of all of the available power and shows off how good the console is really well. There are some PS5 versions of games available as upgrades, though the only ones that might swing this as a new console purchase are Spider-Man: Miles Morales, and Call of Duty: Black Ops Cold War. The new Call of Duty gets new content early on PlayStation consoles, making it the perfect place to play.
While Microsoft's launch lineup of Halo Infinite and various other titles has been a bit of a bust, there's no shortage of games to play. With Game Pass, anyone can access next-gen versions of hundreds of games for their new Xbox. It costs less than a new game does to sign up, and you get first-party titles on launch day as part of the subscription. If it's loads of games someone is looking for, Xbox is the place to play.
Controller
Sony has completely redesigned their controller for the PS5. The DualSense is a much more ergonomically efficient piece of hardware, making long gaming sessions so easy. It's key feature however, is haptic feedback. This makes all the difference in a game, because the controller gives you a feel of what the characters on-screen are going though. It's a truly immersive experience like no other.
Microsoft hasn't deviated from their Xbox Wireless controller design with the Xbox Series X. That's not a bad thing though. The controller is used by millions of players on both PC and Xbox, and it's never been criticized because it works superbly well. While it's nothing new, it's definitely reliable.
Disc or Discless
The PS5 has a digital-only edition ($399) which offers players the chance to only play digital versions of games. However, this means that you can't play any PlayStation 4 discs on the console. With the standard edition ($499), you can play almost every single PlayStation 4 game through backwards compatibility. The price difference can make or break this purchase, but for those with an extensive library of physical games, the standard edition is worth it.
The Xbox Series X ($499) is the standard version of the new Xbox console, with the Series S ($299) having no optical drive for discs. The big difference here is how much someone will use Game Pass. Since the service is digital, it can be used on any Xbox, and packs in a number of phenomenal games. Should someone be set on a Series X though, there's always a payment plan option with Xbox All-Access, which allows customers to purchase a console over 36 months, instead of all in one go.
Ecosystem
The transition from Xbox One to Series X and S, or PS4 to PS5 is as easy as it is buying a new computer. You log into the core service, and all of your data is right there for you to access. You can re-download games, look at trophies, and do everything that's new as well. If the ease of upgrading is what a consumer is concerned with, then they should stick with the console family they're already a part of. There is no way to carry across an Xbox profile to a PlayStation console.
Conclusion
As you can tell, there's very little in the battle for the best next-gen console here. Both Sony and Microsoft have pulled out all the stops. If I had to pick one, I would say that the Xbox Series X and S are the best way forward. The console is sturdy, provides reliable visuals and gameplay, and is easy to upgrade to. Microsoft is also going above and beyond to bring as many games as possible to Game Pass, a service that will be paramount for the console's future.
On the other hand, anyone that is loyal to PlayStation should stick with a PS5. The console is the slightly better of the two this generation, and the ability to keep all of your game downloads and trophies is something that PlayStation fans will appreciate more than Game Pass will ever be able to offer.