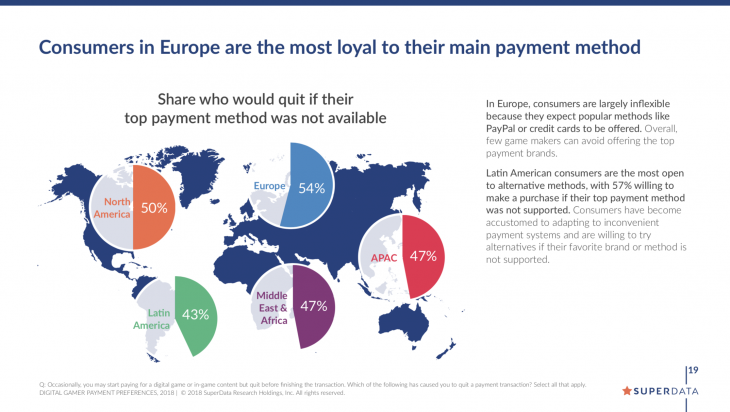 The latest report from SuperData shows interesting consumer behavior when it comes to the speed of the digital payment platform they're using. Globally 27 percent of gamers abandoned their purchase at the checkout due to the slow process of the payment platform they were using.
In Europe consumers were shown to be the most loyal to their chosen payment method, with 54 percent abandoning a purchase if their favoured payment method wasn't available. In North America half of all consumers would behave in a similar way, while Latin American consumers were the most open to new methods, with only 43 percent quitting a purchase at checkout.
SuperData's report also shows that game makers are attempting to bring their monetization methods into line with those of Spotify and Netflix. These streaming services offer premium content for a monthly subscription fee. The Xbox Games Pass, PlayStation Plus, and even Nintendo Online when it launches next month, are all trying to offer gamers a similar service with digital titles.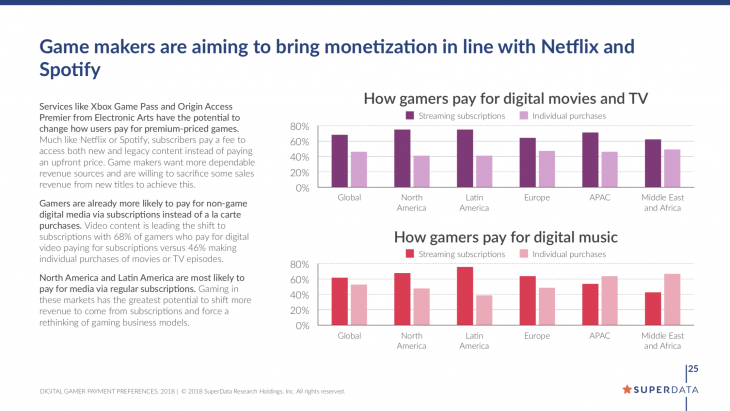 The report shows that North American and Latin American gamers are most-likely to shift to this style of monetization with games. Game makers are keen to achieve more dependable revenue streams, and with a list of current subscribers they'll be able to gain just that.
PayPal was reported as the most-popular payment method for digital games, preferred by 26 percent of gamers worldwide. The platform is supported by most major game marketplaces, making it harder for other brands to break into them.
Spending on live streamers is set to reach around $1.5 billion on website such as Twitch, where viewers can choose to support their favorite streamers with donations. This space is open for many other payment methods to grow into, but right now it is dominated by PayPal as the favored payment method.
When it comes to the choice of payment method consumers have shown that they opt for ease of use and speed over fraud protection and security as features. 77 percent of consumers said that speed was a necessity, while 46 percent said that ease of use was their priority with a payment method for digital games.