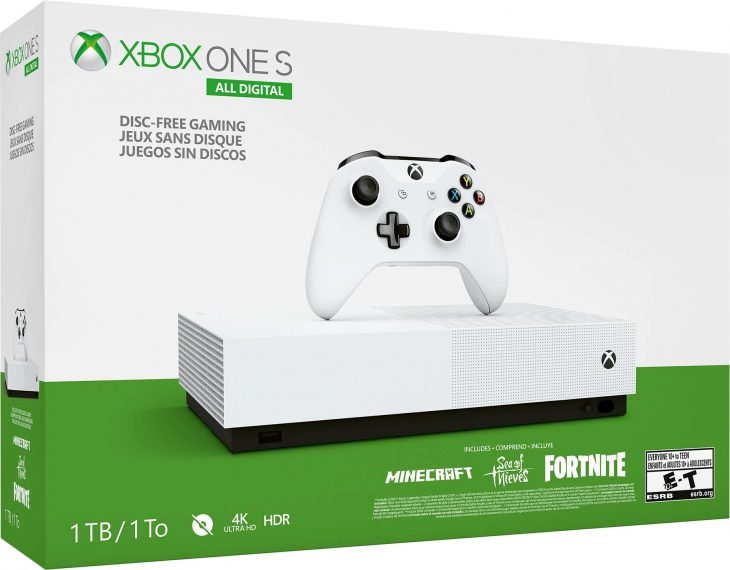 The Xbox family of consoles were the best-selling consoles in the UK over Black Friday weekend.
Microsoft's Xbox family of consoles all saw heavy discounts for the Black Friday weekend, with the Xbox One S All-Digital Edition being a particular highlight, selling for just £110 at Tesco. In other retailers the console was still priced extremely low at £129, or £140 with additional controllers on Amazon.
The All-Digital Edition came with Sea of Thieves, Minecraft, and a Fortnite bundle, and on Amazon entitled consumers to a further discount on Xbox Game Pass Ultimate subscriptions. This bundle alone is why Minecraft, Fortnite, and Sea of Thieves have performed so well in the UK charts.
Over 100,000 Xbox One machines were sold over the course of the last week according to retailers, only slightly behind what the console achieved in 2018 for the same period. Of all the Xbox consoles on offer, the cheapest was the best-selling, Xbox One S All-Digital Edition.
In fact the Xbox family sold so well that they managed to beat the Nintendo Switch by a handful of units. Nintendo's new console, and the Lite variant, both saw heavy discounts for Black Friday as well. In some retailers the Nintendo Switch Lite was priced at just £179, bundled with Mario Kart 8 Deluxe Edition or Pokemon Sword and Shield.
The best-selling version of the Switch was the Neon variant of the new improved battery model. More Nintendo Switch consoles were sold this Black Friday than were sold for the same period last year. As a result, the Nintendo Switch was the number one product in terms of revenue due to the higher price, whilst the Xbox One sold more units overall.
The PlayStation 4 was the third best-selling console for Black Friday, with just over 60,000 units sold for the week. Bundles packaged with FIFA 20 and Call of Duty: Modern Warfare, boosting sales for those games as well.
Despite the success of Black Friday, year to date sales are still down by 35 percent for the Xbox One, and 45 percent for the PlayStation 4. Nintendo Switch console sales are up by 13 percent year to date, showing that the end of the current console generation is having a more significant effect on those units that will see a new version release in just over a year.