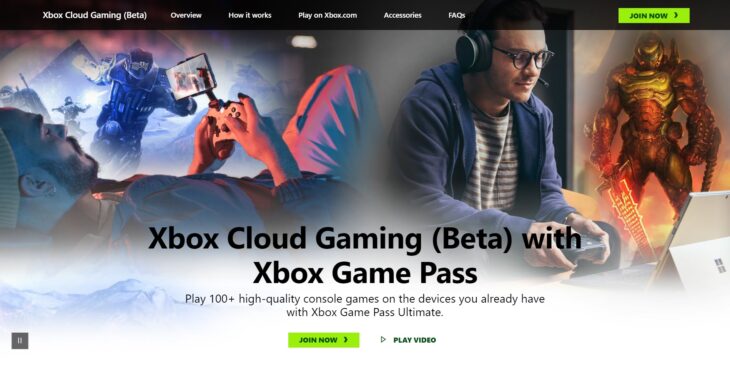 Microsoft has now brought its cloud gaming service to both PC and Apple platforms. This news comes from the fact that Microsoft has announced that the Xbox Cloud Gaming Beta is now available on all Windows 10 PCs and iOS smartphones and tablets. This is purely for Xbox Game Pass subscribers.
Subscribers can access the beta by navigating to Xbox.com/play on any Chrome, Edge, or Safari browser. From there, they'll be guided through the process of using Xbox Cloud Gaming and getting the best games from Xbox Game Pass on their devices.
Microsoft added that it has upgraded all of its data centers in order for the cloud gaming service to accommodate more users. Apparently, the service is now running on custom Xbox Series X hardware, providing faster load times and better frame rates than ever before. However, game streams are being limited to 60 FPS and 1080p to keep the latency for end users as low as possible.
Catherine Gluckstein, Head of Product and Xbox Cloud Gaming Vice President, explained that this is a key step in the company's journey to bringing the Xbox experience to all gamers. She indicated that this is not the end for the process, and there will be more platforms added to the service over time.
A test version of Xbox Cloud Gaming was first launched for iOS via an app last August. Unfortunately for Microsoft, Apple outlined that the app was against its terms of use, and removed it so that users couldn't access it. This is part of the reason that a website is now used for all users to access the service.
Interestingly, the Apple vs Epic court case earlier this year revealed that Microsoft had been in talks with Nintendo about bringing Xbox Cloud Gaming to the Switch. This could still happen, but it's unlikely that Nintendo would allow for anything less than the final finished product.
Xbox Cloud Gaming is the next logical step for Xbox Game Pass. While the service is so beloved by Xbox and PC users, there are still many people out there who have yet to experience it.