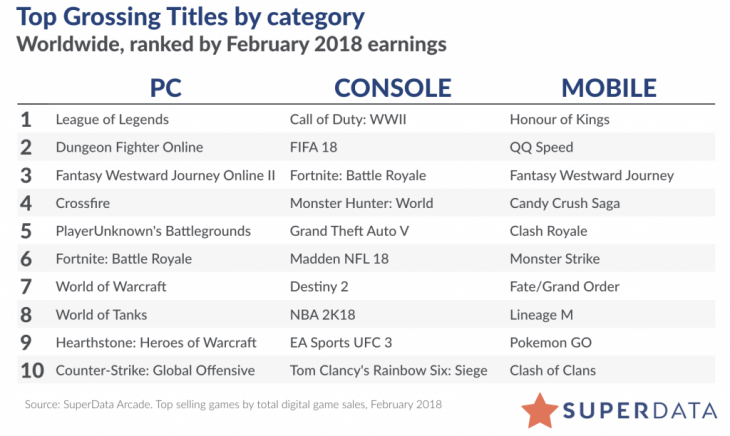 In February 2018 the worldwide digital games market grew by 6 percent year-on-year according to research from SuperData.
The Social and Pay-to-Play PC segment of the market fell by 1 percent and 8 percent respectively over the same period. The Console segment grew by 34 percent over this period also, and the Premium PC similarly grew by 33 percent.
While the Mobile segment grew by 4 percent year-on-year, the Free-to-Play PC segment actually shrank by the same amount. The most growth has been seen in the Free-to-Play console segment, which has increased by 359 percent year-on-year.
This growth is largely attributed to Fortnite and its tremendous rise in popularity over the last couple of months. Fortnite is also the only place where gamers can play the multiplayer mode battle royale, popularised by Xbox One and PC exclusive PUBG, on PlayStation 4. The game earned more additional content revenue than any other console game in the month, apart from Call of Duty: WW2.
Overwatch is managing to hold on to buyers with the continued release of new cosmetic items. Overwatch League team-themed cosmetics are among the latest items players can purchase, and in February a Chinese New Year event brought time-limited skins to the game for those willing to play enough to earn them, or buy them.
The Mario Kart clone on mobile, QQ Speed, from Tenscent has risen to be the second highest grossing title in SuperData's mobile game chart for the month. Currently Honor of Kings sits at the top of the chart, but QQ Speed is quickly closing the gap.
Monster Hunter World is still performing well, sitting in fourth place on SuperData's top grossing console games chart even 30 days after release. Capcom have been supporting the game with new events for players to compete each week, challenges, and the introduction of a new monster to hunt alongside the upcoming Easter live event. The live event will bring back all previous events for players to complete, and offer new in-game armour and weapons to craft with the materials earned from completing the events.
US digital spending has risen by 21 percent, primarily caused by an increase in sales on consoles of additional content for free-to-play title Fortnite, as well as certain triple A titles.
PLAYERUNKNOWN'S BATTLEGROUNDS sold 2.5 million copies over the period, however this is the second drop in sales in as many months. Some of the sales decline was made up for with copies of the game sold on Xbox One.