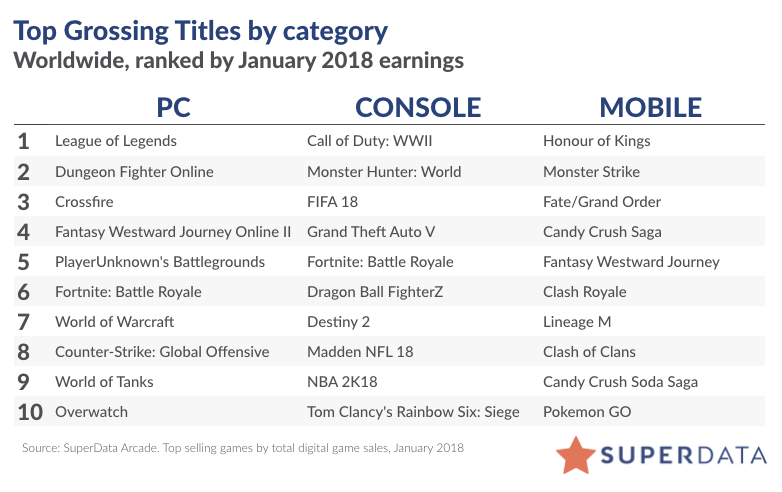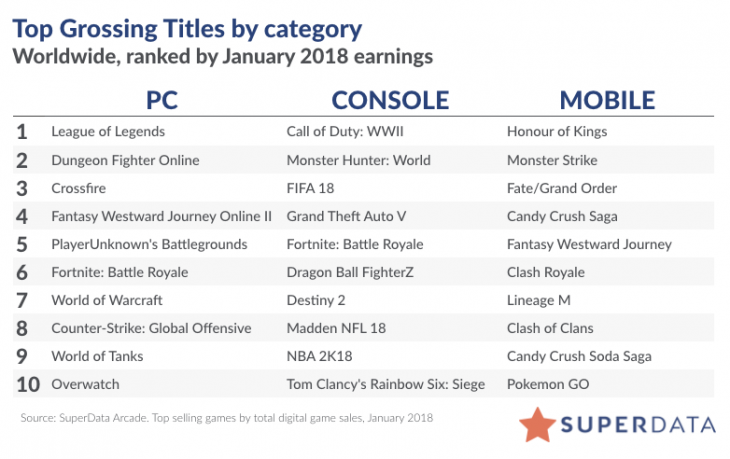 SuperData have released their report for digital spending on video games in January 2018, showing that worldwide digital spending has increased 11% year-on-year.
The total spending on video games, digitally, for the month of January 2018 was $8.9 billion, a growth of 11% year-on-year.
Interestingly the Pay-to-Play MMO and Social segments are continuing to see a decline in spending. The Social gaming segment saw a 5% decline and the Pay-to-Play segment saw a 9% decline. The Mobile segment saw growth of 11% while the Free-to-Play segment saw growth of only 1%.
The premium PC segment is staying strong with 24% growth during the period, as well as the digital console market which has grown by 57% percent. Both of these segments show a clear trend in gamers opting to spend their money digitally rather than spend it in a physical retail store.
The growth for console games is largely due to the release of Monster Hunter: World, a game which has taken the world by storm, selling over 1.5 million digital copies despite launching at the end of the month. Dragon Ball FighterZ launched at a similar time and is also slated to have sold more than 1.5 million digital copies for the month.
Both of these titles had hugely successful launches; Monster Hunter: World because it is most popular in Japan, where most of the games have released, yet it managed to sell incredibly well in the west, while Dragonball FighterZ had the most successful digital console launch of all time.
As PUBG continues to dominate the Battle Royale genre it has brought in over $200 million in January alone from console and PC digital sales. However, Fortnite is continuing to see record breaking levels of player engagement month after month, showing it might soon be level with or more popular than PUBG.
Finally, Rainbow Six: Siege has seen a new lease of life in the aftermath of an announcement from Ubisoft stating that they will be supporting the game for the next 10 years. Ubisoft plan to have at least 100 Operators for players to choose from, not to mention a plethora of special events which are starting with Outbreak in March.