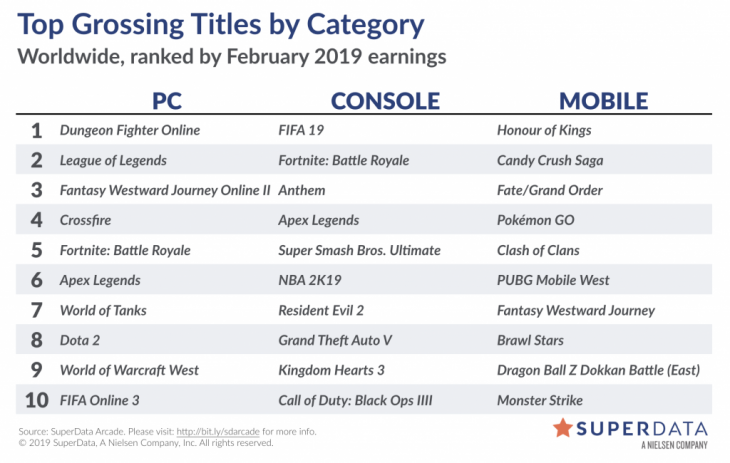 Superdata have released their report on the worldwide digital games market for February 2019. The report shows that spending on digital games across the PC and mobile segments grew by 2 percent year-on-year to $8.2 billion.
The mobile segment in particular is what boosted digital spending for the period, showing 9 percent growth year-on-year. This growth more than offset the decline in the premium PC segment, a 6 percent drop year-on-year. However, the PC segment is facing a tough market comparison considering during the same period last year PLAYERUNKNOWN'S BATTLEGROUNDS released, and was the most popular battle royale experience available in gaming.
During February Apex Legends had the best launch of any free-to-play title in history. Respawn Entertainment's surprise entry to the battle royale genre generated $92 million across all platforms from in-game spending. The majority of revenue was generated from console players. Despite this Fortnite was still the leading title in the top grossing game rankings.
The release of the first Battle Pass for Apex Legends this week looks set to bring in even more revenue for the title, offering similar bonuses to players as Fortnite's own Battle Pass equivalent.
Bioware's new MMO, Anthem, made $100 million during its launch month. The game was the top selling title in terms of units for February, and showed above average digital unit downloads. Overall platforms the game generated $3.5 million for the month, which is impressive when you consider that no in-game spending is required to obtain any item in the game.
Hearthstone showed the largest year-on-year decline ever in February. The game saw a drop in revenue of 52 percent on PC and mobile, which is thought to be attributed to stiff competition in the market as well as player fatigue. Bethesda's own Elder Scrolls Legends will be launching across all platforms in 2019 with cross-play, and Gwent, from CD Projekt Red, has an expansion launching within weeks that looks to attract even more players.
NBA2K has shown growth once again. To date NBA2K19 has generated 42 percent more in-game spending than its predecessor, NBA2K18. This growth is some of the largest seen in any mature Triple A franchise ever.