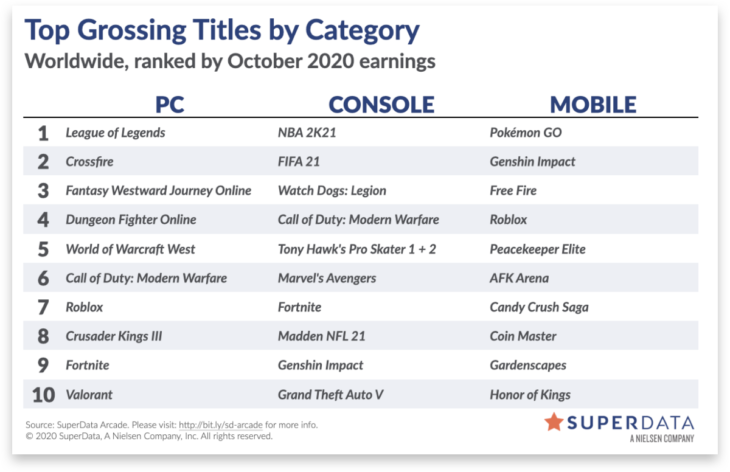 SuperData has released their report on the worldwide digital games market for October 2020. It shows that, consistent with trends leading into the month, console spending was up 18 percent year-on-year. This growth is especially impressive because Call of Duty: Modern Warfare launched in October 2019, and was one of the biggest releases of the year.
The highest-grossing game for the month was Genshin Impact from developer miHoYo. The game launched on September 28, 2020 for PlayStation 4, PC, and mobile, and has become a runaway success. The monetization mechanics found in the game resemble gatcha, which are collectible characters. These characters are awarded through random in-game purchases. However, it's the setting and story that seem to be drawing more players in to play each and every day.
FIFA 21 shifted 1.5 million units digitally over the month. When compared to the digital launch sales for FIFA 20, these are up by around 300,000 units from the 1.2 million that FIFA 20 sold in the same period last year. Considering that FIFA 21's release was shifted to later in the year, these figures could be even more impressive when the same opening month sales are compared.
Watch Dogs Legion broke records for Ubisoft's franchise, shifting 1.9 million digital units. The game was only available for three days in October, which is astounding when you look at these numbers compared to FIFA 21. In fact, these sales were higher than the first three month's worth of sales for Watch Dogs 2, which sold 413,000 units and released on November 15, 2016. It's thought that free giveaways of Watch Dogs 2 earlier in the year helped boost Watch Dogs Legion's popularity.
Crash Bandicoot 4: It's About Time sold 402,000 units, which is lower than sales of the recent remakes. Crash Bandicoot N.Sane Trilogy actually shifted 502,000 units on the last day of June 2017, and Crash Team Racing sold 552,000 copies in June 2019. It's believed that this latest release suffered slightly because it didn't launch at a time when there was high demand for new games. Interestingly, because this game launched at the higher price point of $59.99, compared to $39.99 that the two remakes were priced at, revenues were actually up over those older titles.
EA's Star Wars Squadrons surprised everyone by selling 1.1 million digital units at launch. The game is part of the space combat niche, offering fantastic VR experiences as well. Earnings though, were actually the lowest of any Star Wars game due to the price point being $39.99.
SuperData also reported on the performance of game subscription services. Combined revenue for Xbox Game Pass, PlayStation Now, and EA Play was up by 142 percent year-on-year. Subscribers are actually up for Xbox Game Pass by 113 percent year-on-year as well.