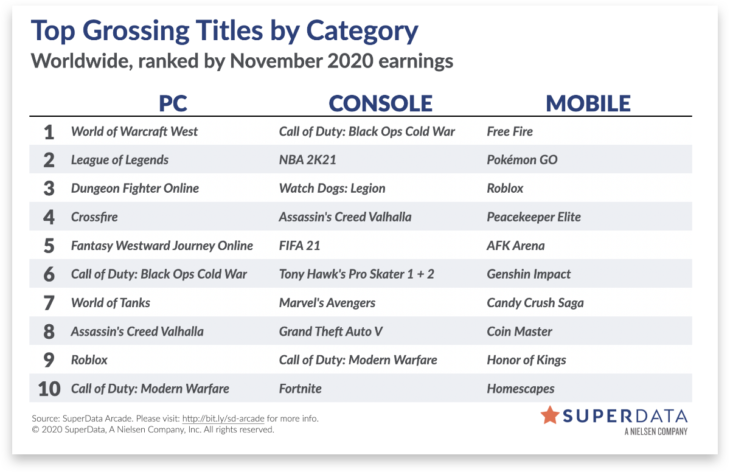 Digital game sales earned the highest monthly revenue ever in November 2020 at $11.5 billion.
Overall spending was up by 15 percent compared with November 2019. Mobile spending saw growth of 9 percent, and PC hit a new record for revenue, which was up by 22 percent. This is mostly thanks to World of Warcraft: Shadowlands.
Console spending was up by 24 percent, however, this was a little below the all-time record of April 2020. It's thought that console earnings were held back due to a lack of available stock for the PS5 and Xbox Series X/S. This may have driven some consumers to hold off from buying the latest games until they can get their hands on the new hardware.
Call of Duty: Black Ops Cold War sold a whopping 5.7 million digital units over the month, which is up by 7 percent compared to the last entry in the Black Ops series, Call of Duty: Black Ops 4. The ongoing success of Call of Duty: Warzone is also thought to have helped the latest Call of Duty sell so well. In fact, thanks to Warzone, 2.7 times more players enjoyed Call of Duty: Black Ops Cold War than Modern Warfare.
It's believed that Warzone will be the key way in which the player base continues to experience Call of Duty, particularly with the game shifting to link with the current most recent release. In the case of Call of Duty: Black Ops Cold War, the first free season has added a new map and battle pass to mix up the gameplay once more.
Assassin's Creed Valhalla sold 50 percent more copies at launch than Assassin's Creed Odyssey did, 2.7 million. The game benefitted from a positive reception thanks to Ubisoft lining the launch up with that of the Xbox Series X/S, as well as Cyberpunk 2077's last minute delay. Overall revenue was up 23 percent over Assassin's Creed Odyssey at launch, but in-game spending was down by 62 percent compared to Odyssey's at launch. This is likely to be because of the lack of an experience booster in the in-game shop, which has since been added much to the disappointment of many players.
Spider-Man: Miles Morales sold fantastically well across PS4 and PS5, with a total of 663,000 units. While sales of the standalone expansion couldn't stand up to the 2.2 million of Marvel's Spider-Man at launch, it's not a full sequel and wasn't expected to sell as much. Uncharted: Lost Legacy was a similar title, and Spider-Man: Miles Morales managed to dwarf its sales.
World of Warcraft's Shadowlands expansion led to the highest monthly revenue on PC since 2008. Player numbers were also their highest in the game since 2010. Compared to Battle for Azeroth's launch, which was in August 2018, earnings were up by 50 percent, and player numbers were up by 34 percent. These player numbers will likely drop off over the next couple of months, which is what always happens with World of Warcraft's expansions.
The game has now become heavily reliant on these yearly expansions. The players they attract and bring back into the fold drive enough revenue to help support the game and fund development of the next expansion. Considering how old the game is now, it's questionable how many years of expansions it has left.
Finally, Among Us had around half a billion users in November 2020 alone. The game has become the most popular ever in terms of player numbers, though since monetization in the game is on a very small scale. This means that revenue from the game's cosmetic packs don't compare with battle pass sales in larger releases.
The PC version collected most of the game's revenue, costing $5 upfront, despite the player base being quite small. Now the game is out on both Nintendo Switch and Xbox Series X/S. The developers have shifted work from a sequel into future updates to the game, showing that this is an opportunity for them to turn the game into a staple title for many for years to come.