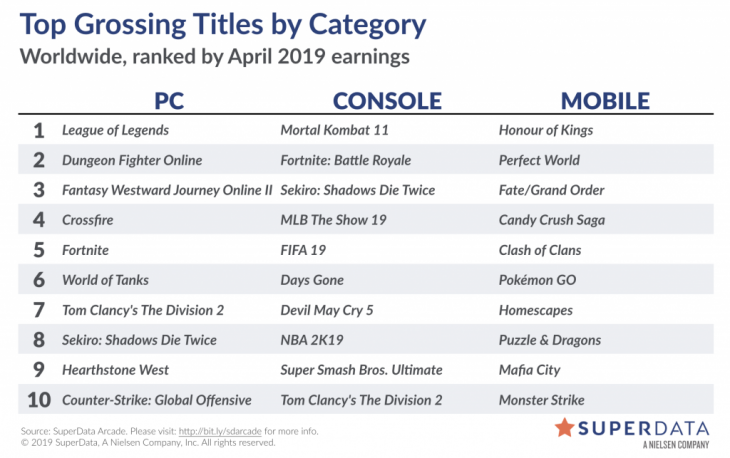 During April 2019 digital games for PC sales slowed while digital games for consoles sales saw a growth. Digital spending for the month was up year-on-year by 7 percent across PC, console, and mobile sales at $8.86 billion.
The fastest-growing segment for the month was sales of premium games for consoles. Thanks to a continued trend towards consumers purchasing full games digitally the segment was up by 17 percent year-on-year. While the Free-to-Play PC segment has shown year-on-year growth, overall the segment has declined by 4 percent compared to April 2018.
Mortal Kombat 11 saw 1.8 million units sold digitally over the PC and console segment, making it the best digital launch in Mortal Kombat history. Sales were up by 400,000 units compared to the previous release, Mortal Kombat X, which launched in 2015. It's believed that the continued increase in digital sales is driving force behind the game's success.
Spending in-game in NBA2K is thought to have increased by 101 percent year-on-year, mostly thanks to the NBA post-season heating up. This level of growth is the largest single-month growth rate that the NBA2K franchise has seen since 2016.
After such a surprising and successful launch, Apex Legends has fallen out of the top rankings for console and PC. In April the game, developed by Respawn Entertainment, generated $24 million, which is another significant drop in revenue for a second month in a row. Compared to February, when Apex Legends launched, monthly revenue is now at a quarter of what it was.
Fortnite continues to perform well, ranking at the top of the charts for revenue generated on PC and console. The difference between Fortnite and Apex Legends has been each title's seasonal content, with Fortnite offering significantly more progress and cosmetics to players than Apex Legends does with its equivalent season pass. Time will tell if Respawn Entertainment learn from Fortnite and alter their seasonal content to bring it more in line with the most popular battle royale title on the market.
Despite bumps in revenue due to new content updates, both Overwatch and Hearthstone are seeing decline in revenues. Overwatch saw a drop in revenue generated of 15 percent year-on-year, while Hearthstone saw more than double that with a year-on-year drop of 37 percent. Combined the digital revenue for both titles is down by a total of 39 percent for the year to date compared to the same period in 2018.