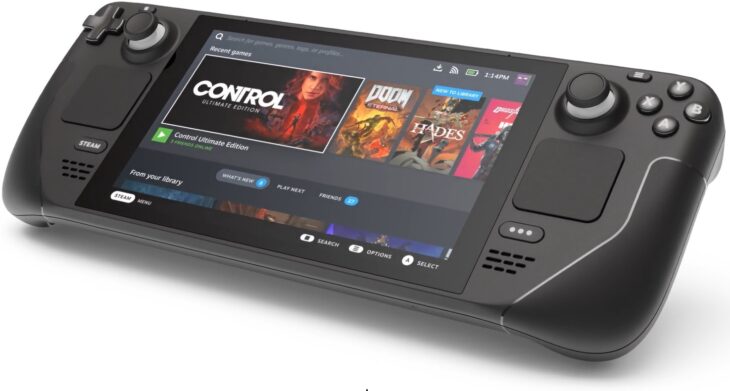 Last week, Valve announced the Steam Deck. The device is a portable PC of sorts that allows users to play all of their Steam games anywhere they want to. The company also opened up pre-orders for the device, allowing customers to place a deposit for their Steam Deck. However, now it seems like the demand was greater than expected, because delivery windows are already shifting.
Reservations went live on Friday, and took many users the best part of the weekend to complete due to anti-bot technology to prevent scalpers acquiring all of them. There were three tiers of orders, one for each size of device, from smallest to largest.
The 64GB devices are set to be delivered between December and Q1 2022. That hasn't changed. For the larger devices, the 256GB model has been pushed from Q1 to Q2 2022, and the 512GB model back from Q2 to Q3 2022. Essentially, the two largest devices will now arrive a quarter later than first shown.
This is just the latest issue that users experienced with the system. Many users struggled to log into Steam to make their orders to the aforementioned anti-scalper technology in place. Even when they had though, payment methods wouldn't work and consumers received emails telling them to re-submit them.
There also seemed to be an issue with the age of Steam accounts. Only those with an account older than June 2021 could make an order. However, many users reported that they couldn't make an order because they were told they had a brand new account, despite having had an account for longer than ten years.
It seems as though the systems in place held, but they weren't designed for the sheer volume of traffic that was received in the end. Consumers are still making pre-orders today, but delivery windows are pushing further and further back so that Valve can keep up with a reasonable delivery schedule.
Even though there were several anti-scalper methods in use, Steam Deck devices have already popped up on sites like eBay, listed for more than double their price. This is, sadly, only to be expected. Some users will simply buy a device to sell for a profit, forcing those who can't pre-order one to pay through the nose.