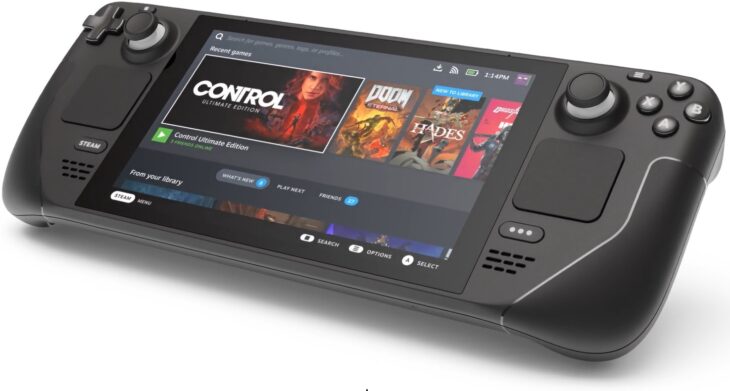 Valve, creators of the Steam marketplace, yesterday revealed the Steam Deck. This device is a handheld console that acts like a PC and will play games through Steam.
The Steam Deck uses a custom APU thanks to a partnership between Valve and AMD. This hardware is the equivalent of a high-end console, but not a PS5 or Xbox Series X/S. The most comparable device on the market is a PS4 Pro, but that device isn't capable of handheld gaming.
Valve confirmed that any Steam user with a Steam Deck can access their Steam library anywhere and play all the games they own. The only restriction is that they must own the games and have them downloaded.
The device bears a striking resemblance to the Nintendo Switch, which may be intentional. The Switch is one of the best-selling consoles in the world, and has been for the past year. The Steam Deck uses a similar form factor and even has a dock for playing on monitors. However, the dock will be a separate product to the Steam Deck.
Anyone hoping to buy a Steam Deck can reserve one later today at 6PM BST. There are three versions available. For £349 you get a Steam Deck with 64GB of internal memory and a case. At £459 you'll get a Steam Deck with a 256GB SSD, a carry case, and an exclusive Steam Community profile bundle. Finally, the most expensive version is £569, and provides all of the same contents as the previous bundle, but the device itself has a 512GB SSD. It also comes with an exclusive keyboard theme.
The Steam Deck has clearly been built with PC gaming in mind. It's got more buttons than any controller, allowing for almost all games to be played on it. While the lineup of games that can be played on the device hasn't been confirmed yet, it's likely that developers have had time to work on the UI for the device.
Nintendo has proven that many games that have never been on a handheld console before can function perfectly. Civilization 6, for example, is a hardcore strategy game that usually requires an entire keyboard to be played properly. On the Switch though, it works fine.
Many believe that Valve is going after the Switch with this device. However, the devices have very different titles on them, and a very different appeal. The Switch is aimed at all people, not just PC gamers, and has many exclusives that sell units by themselves. The Steam Deck is more of a specialized hardware purchase, and is definitely for a very specific audience.