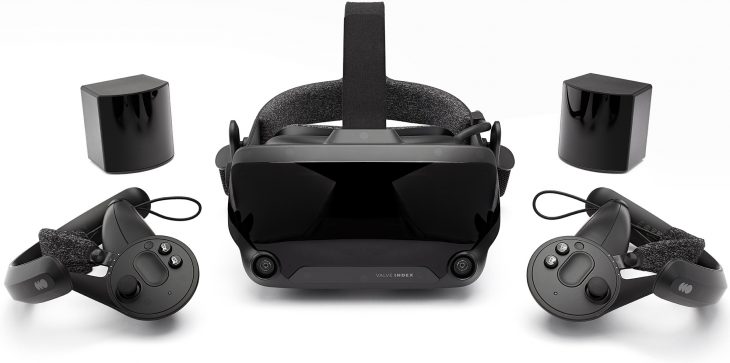 Valve have officially unveiled the Valve Index, a high-spec virtual reality headset that can be purchased with custom designed controllers.
The complete Valve Index package – the headset, left and right controllers and base station – will retail for $999. Alternatively, engadget report, gamers can purchase the items individually: $500 for the headset, $279 for the pair of controllers and $149 for a base station.
The latter option may well appeal to those who already own an HTC Vive. As Valve Index VR has been designed for compatibility with existing Vive hardware, consumers could use their current Vive controllers and base station in conjunction with the Valve Index headset and effectively upgrade to the Index for only $500.
The specs for the Valve Index suggest it will be a significant upgrade for home VR users. One of the biggest leaps forward looks set to be the headset's refresh rate. At 120hz / 144hz it will be significantly higher than rival VR headsets such as the Oculus Rift.
The Valve Index will also utilise LCD technology for its display screen, allowing for up to 50% more subpixels than the OLED displays of existing VR headsets.
In terms of sound, the Valve Index comes with integrated headphones. Interestingly, these are designed to sit back a little from the player's ears, allowing for more realistic depiction of sound.
Each controller has, according to Kotaku, "87 different sensors for detecting finger and hand position, movement speed." Again, this should improve the realism of the device by translating player's hand motions into games with a high degree of accuracy.
Minimum PC specs required to run the Valve Index include: dual-core CPU, 8GB of RAM and an NVIDIA GeForce GTX 970 or AMD RX480. Such high specs emphasise that the Index is initially likely to appeal to VR converts seeking the next level experience rather than newcomers to the market.
Nonetheless, with Valve hoping to develop Steam VR and competition hotting up in the VR sectors, virtual reality's days as a niche market could be about to end. Valve will hope they are well placed to capture new VR converts as well as those already adapting to the technology.