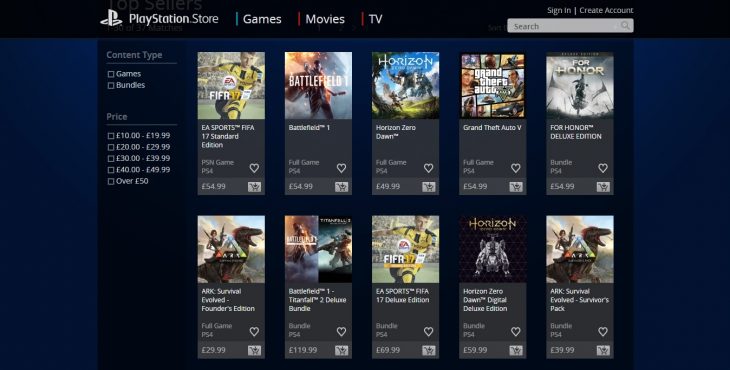 Sony has published a list of the best-selling PS4 games that sold through their online service, the Playstation Network, in the US, during the month of February.
Ubisoft's sword-fighting game For Honor has taken the top spot, and it's understandable given that it's the best game to release up until the end of February, with Horizon Zero Dawn launching on March 1st. Horizon Zero Dawn did manage to take the second place spot, amazingly, with only one day of sales! The rest of the top five places were taken up by souls-like Nioh, Battlefield 1, and Grand Theft Auto 5.
Rainbow Six Siege has made a comeback in sixth position, which is no doubt thanks to the second full year of DLC promised by Ubisoft that will continue to keep the game fresh and fun for at least ten more months. As far as multiplayer games it's also one of the best on PS4.
Ark: Survival Evolved, an MMO that's continuously being updated, made it to seventh position. The developers put a hefty discount on the game and even it's DLC for a few days in the middle of the month which could be linked to it's position here, as the sale didn't affect physical copies.
Fifa 17 and NBA 2K17 are some of the only sports titles on the list, coming in at twelfth and seventeenth respectively. Relatively low position of Fifa 17 can be explained the fact that this is the PSN store chart in the US, were soccer is not a very popular game. For comparison Fifa 17 on the PSN store in the UK is on the second place after Horizon Zero Dawn.
Bloodborne bookmarks the list at number twenty, which is very surprising considering a new souls-like game, Nioh, is out. It could be that in light of Nioh's success many players feel the need to play similar games, which the Dark Souls series and Bloodborne definitely are.
The full list is as follows:
1. For Honor
2. Horizon Zero Dawn
3. Nioh
4. Battlefield 1
5. Grand Theft Auto V
6. TOM CLANCY'S RAINBOW SIX SIEGE
7. ARK: Survivor's Pack
8. Rocket League
9. Madden NFL 17
10. EA SPORTS UFC 2
11. Need for Speed
12. EA SPORTS FIFA 17
13. Minecraft: PlayStation4 Edition
14. RESIDENT EVIL 7 biohazard
15. Battlefield 4
16. STAR WARS Battlefront
17. NBA 2K17
18. Mortal Kombat XL
19. Titanfall 2
20. Bloodborne