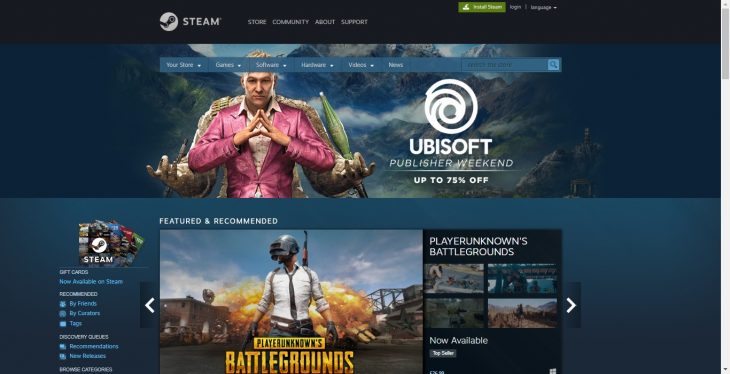 In 2017 Valve generated a record-breaking $4.3 billion in revenue. Around 50 percent of this revenue was generated by games from the top 100 list on Steam.
Year-on-year Steam has seen an increase in sales revenue from games of $800 million, according to SteamSpy's Sergey Galyonkin. According to Galyonkin's estimations revenue peaked at $4.3 billion, up from $3.5 billion in 2016, which made 2017 a record-breaking year for the company.
In a talk at GDC given by Galyonkin yesterday about half of the $4.3 billion generated in 2017 was made from 100 games out of the ever-growing library of 21,000 games on Steam. This equates to 50 percent of game sales revenue from Steam being generated by 0.5 percent of the games available for purchase.
The top-earning game from the list of 100 was PUBG (PLAYERUNKNOWN'S BLATTLEGROUNDS), which brought in around $600 million in revenue with 28 million owners. Counter-Strike: Global Offensive was the next most-profitable game, bringing in about $120 million.
Grand Theft Auto 5 was third in the list, having generated $83 million in revenue over 2017, and Call of Duty: WW2 was in fourth with $41 million generated from around 840,000 copies sold. A total of seven of the top 20 games on this list were released prior to 2017, including titles such as Rocket League, Dark Souls 3, Rainbow Six: Siege, Civilisation 6, and The Witcher 3: Wild Hunt.
However, this data doesn't account for DLC for other titles which may have helped generate substantial income for Steam over the same period, though most of the games in the top 20 appear to have a substantial amount of additional content available for purchase.
PUBG was a hugely successful title in 2017 and hasn't pushed microtransactions until this year. Games such as Grand Theft Auto 5 and Rocket League however, do have large numbers of additional content available through microtransactions. Even with copies of Grand Theft Auto 5 still being sold this year it's the additional content for in-game currency and cosmetics that are the reason the developers continue to support the game online.