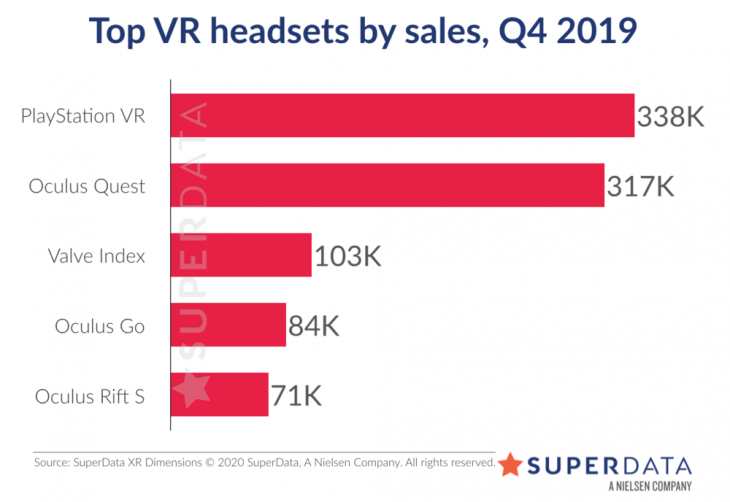 SuperData has released its update on the XR market for Q4 2019. The data shows which VR headset was the best-selling, as well as what their predictions are for the market by 2023.
In total for 2019 Valve sold 149,000 Index headsets. Of those sales, 103,000 were from Q4 2019 alone, as anticipation for Half-Life: Alyx, a brand new VR Half-Life game, drove sales to more than double between Q3 and Q4.
This is impressive considering that the device costs around $1,000, but even so it outsold every other PC headset on the market. The only reason more units weren't sold was because of stock issues that Valve experienced. Even now the device is sold out around the world.
The Oculus Quest was the most popular Oculus headset for 2019, selling 705,000 units over the year. The headset outsold the Oculus Rift S, and the Oculus Go headsets even with their sales combined.
The Oculus Quest is a wireless VR headset, making it far more appealing to consumers both as a purchase for themselves, and gifts for others. In Q4 alone the device sold 317,000 units, putting it only slightly behind the best-selling headset for the quarter, PlayStation VR, which sold 338,000 units in the quarter.
Given the Q4 2019 performance of VR headsets, SuperData predicts that XR revenue will reach $14.9 billion by 2023. It's expected that revenue from AR/MR headsets such as Hololens will see huge growth once consumers accept the price for the devices.
It's also predicted that AR/MR headset hardware and software will generate a combined $6.7 billion by 2023. This will account for 45 percent of all XR revenue for the year.
VR continues to grow in popularity with consumers each year. Devices like the Oculus Quest make it far more accessible, even to those without powerful computers to run them. Companies such as Sony appear to be doubling down on the market as well, with trademarks suggesting that they will launch a new PSVR for the PlayStation 5. Time will tell if 2020 proves to be as lucrative for the market as 2019 was.