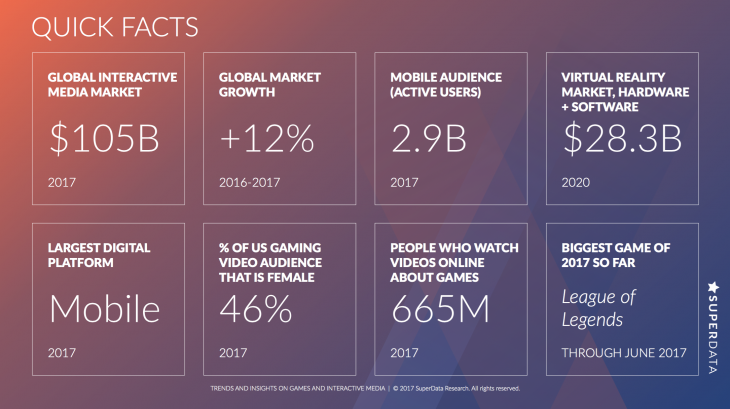 Research firm SuperData has released a report showing the top ten games of 2017 so far based on revenue generated between January and June of this year.
The global interactive media market has grown to $105 billion, showing global growth of 12 percent. The data predicts that the virtual reality market, and hardware and software markets will grow to be worth $28.3 billion by the year 2020.
The top ten console games chart sees FIFA 17 in first place, followed by Grand Theft Auto 5 and Battlefield 1 in second and third.
The top PC game for the year so far, League of Legends, is also the biggest game of 2017 so far across all markets. It's easily one of the most popular games to watch online, and there are now 665 million people watching video games online. In second on the PC gaming chart is Dungeon Fighter Online, with Crossfire following in third place.
Mobile has been the largest gaming platform for 2017 so far with 2.9 billion active users, and Honour of Kings being the top mobile game of 2017 so far. In second place is Fantasy Westward Journey, Monster Strike is in third position.
#
Console
PC
Mobile
1
FIFA 17
League of Legends
Honour of Kings
2
Grand Theft Auto 5
Dungeon Fighter Online
Fantasy
Westward Journey
3
Battlefield 1
Crossfire
Monster Strike
4
Call of Duty: Infinite Warfare
Fantasy Westward journey Online 2
Clash Royale
5
Tom Clancy's Ghost Recon: Wildlands
World of Warcraft
Clash of Clans
6
Call of Duty:
Black Ops 3
World of Tanks
Game of War: Fire Age
7
Destiny
DOTA 2
Lineage 2 Revolution
8
Madden NFL 17
Overwatch
Mobile Strike
9
NBA 2K17
CS-GO
Onmyoji
10
Overwatch
New Westward
Journey Online 2
Fate/Grand Order
Source: SuperData
Related Topics:
Digital Distribution
,
Superdata
---