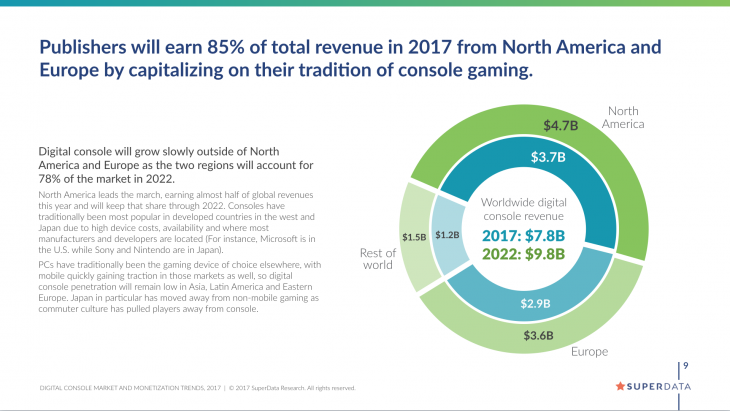 According to research from SuperData 50% of digital console revenue for 2017 will be made from the sales of additional content such as cosmetic items and new levels for current titles.
SuperData today published research that predicts 50% of all digital console revenue will be made up of additional content sales by the end of 2017. They say that this is particularly important because it also makes up 75% of the revenue for top earning console games between 2015-2017.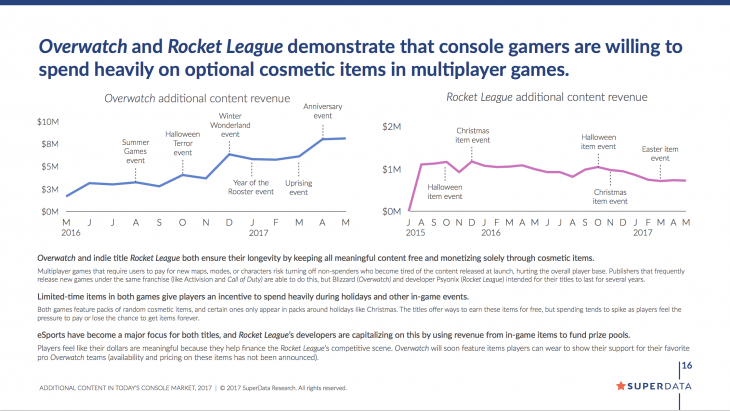 The reliance on additional content has apparently been furthered over the last two years by the decrease in retail releases. SuperData confirmed that 2016 had the worst holiday season for retail games in the US in twenty years. They say that if publishers want to gain maximum revenue from retail console game sales they need to create a proper roadmap for the release of new IPs.
Using Overwatch and Rocket League as models, we can see that console gamers are willing to spend quite heavily on cosmetic items. Both games offer cosmetic items for free, but players need to play the games in order to unlock them. While Rocket League does offer content that can only be accessed by purchasing it, Overwatch allows players to spend real money on in-game currency, with which they can purchase loot boxes that can provide any of the cosmetic content in the game.
SuperData also have data on when US gamers are most likely to purchase additional content for their retail releases. The research indicates that if a developer or publisher is planning to release additional content for their game then they should also offer a Season Pass. 18% of US gamers are most likely to purchase a Season Pass before they buy the title, while 44% are most likely to purchase it at the same time as they buy the game itself. 36% of gamers are likely to purchase the Season Pass when new DLC is announced, and the reaining 21% are most likely to purchase it when all the DLC has been released.
Related Topics:
Digital Gaming
,
Superdata
---