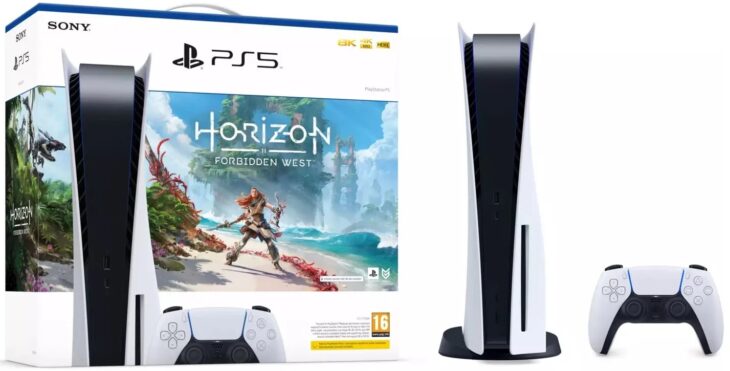 Sony Interactive Entertainment's latest official PlayStation 5 bundle is out and it comes packaged with a digital copy of Horizon Forbidden West.
The bundle itself has not received much promotion, probably due to still ongoing PlayStation 5 shortages, however, it did begin to appear in UK retailers over the week. It also began selling out just as quickly as it appeared.
The Horizon Forbidden West PlayStation 5 bundle is currently priced at £500 which is around £20 cheaper than what it would cost to purchase the console and the digital copy of Horizon Forbidden West separately. However, it is worth noting that the PlayStation 4 version of Horizon Forbidden West can be bought significantly cheaper and it comes with a free next-gen upgrade included.
Sony's previous PS5 bundle was released back in June 2021 and included a digital copy of Ratchet & Clank.
The PS5 Horizon Forbidden West is currently listed on the US PlayStation Direct site, however, it is currently unavailable. This information was spotted by a Twitter user going by Wario64.
At the time of this writing, Sony has registrations open offering players a chance to purchase the PlayStation 5 consoles directly from the company. The registrations are currently open only for players based in the US, UK, Germany, France, Netherlands, Belgium, and Luxembourg.
Sony is scheduled to release three new PS5 console covers that come in Starlight Blue, Galactic Purple, and Nova pink. These console covers will be priced at $54.99/£44.99 and will be available only in selected regions.
Players based in the US, UK, France, Germany, Belgium, Netherlands, and Luxembourg will be granted early access via the PlayStation Direct starting June 17, 2022.
In other news, Sony appears to have registered a brand new PS5 model in Japan for which they recently received construction design certification. The new "CFI-1200" series model it seems will feature updated radio equipment.