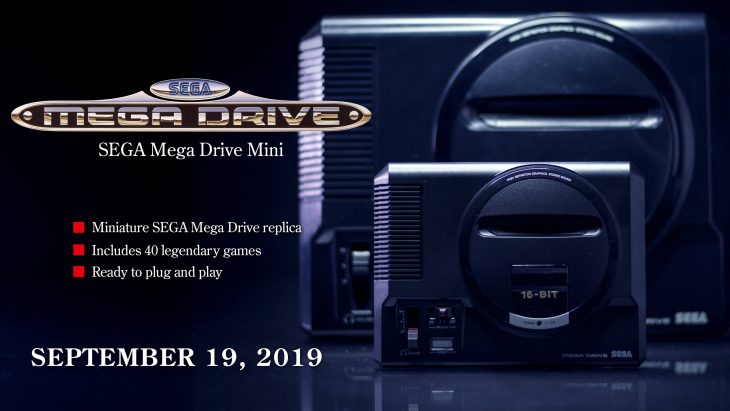 Iconic Japanese gaming firm Sega are set to capitalise on the current market for nostalgia in gaming by releasing a mini version of their most successful console – The Sega Genesis (branded the Sega Mega Drive in Europe).
Sega made the announcement of the upcoming console, called Sega Mega Drive Mini, at Sega Fes 2019, held over the weekend of the 30th-31st March, and revealed a release date for the console of September 19, 2019.
Perhaps tellingly, the pricing and format of the Sega Genesis Mini has much in common with Nintendo's NES and SNES Classics.
Nintendo more or less pioneered a new market with the launch of the NES Classic in 2016. Designed for quick plug in and play gaming, the NES Classic came in a small box with 30 games built in.
Gamers hungry for a hit of nostalgia and a throw back to a time when games were simpler and smaller – no software patches to download and install first, no complicated crafting processes to learn – flocked to the device. Both the NES and SNES Minis sold out quickly on release and were being sold on for extortionate prices online before new units made it to the shops.
The Sega Genesis Mini has been priced by Sega at $79.99 in the US, £69.99 in the UK, €79.99 in Europe and AUD$139.95 in Australia. This price point is similar to Nintendo's pricing for the NES Classic and the construction of the console, similar in design to the original Genesis, but smaller, again reflects the approach of the NES and SNES Classics.
Sega state that the console will be easy to use – "simply plug-in and play 40 of the console's legendary titles" – and teased ten of these games at Sega Fes: Ecco the Dolphin, Castlevania: Bloodlines, Space Harrier 2, Shining Force, Dr. Robotnik's Mean Machine, ToeJam & Earl, Comix Zone, Altered Beast, Gunstar Heroes and, of course, the original Sonic the Hedgehog.
Reports suggest that the console will come with two USB controllers, one USB to Micro-B power cable, one HDMI cable, and a power adapter in North America. The game ports will be produced by M2, the same company Sega used to produce the Sega Ages and Sega 3D Classics Collection.
The Sega Genesis was one of the main competitors to the NES and SNES in the early 1990s. indeed, the recent "console wars" between Sony and Microsoft were predated by the battle between Nintendo and Sega, with their iconic mascots, Mario and Sonic the Hedgehog, to the fore.
With 30 million console sales (making it the 12th highest selling console of all time) the Genesis more than made its mark. Sega will hope it can do so again on the 19th of September.