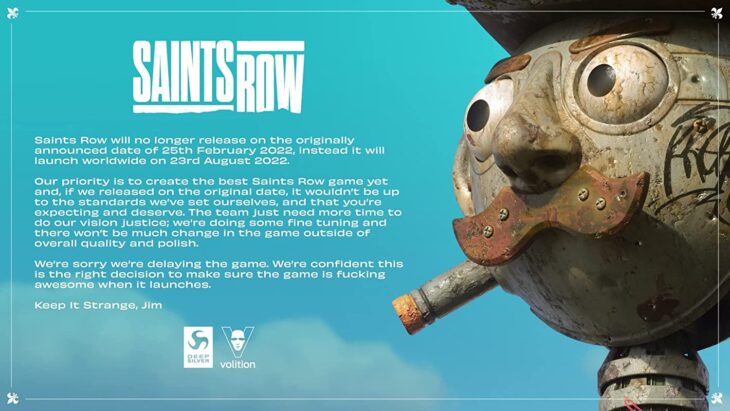 The upcoming Saints Row title has been delayed by a few months so that it will now launch on August 23, 2022. This will be quite the blow to fans of the series that wanted to play it sooner.
Jim Boone, Chief Creative Officer for developer Volition made the announcement on Wednesday. He explained that the studio needs more time to work on the game and realize the full potential of its size and scope. He added that Volition also underestimated how much of an impact the pandemic had on development, which was no doubt disturbed somewhat by developers working from home, or not at all where that wasn't possible.
Boone outlined how the studio's vision is to create the best Saints Row game to date with this release. The company has set itself some very high standards, and the expectations among fans are quite high too. So to meet those expectations, more time is required.
From the sounds of things, it's the game polish and feel that needs to be perfected. In light of the state that Cyberpunk 2077 launched in about one year ago, all fans are happier because Volition is taking its time to create an engaging and enjoyable experience over crunching to meet a deadline.
The game's story and setting are all going to remain the same. Nothing will be missing or changed as a result of this delay, it's all purely refining what has been laid out in the past, and that's just going to take a bit more time.
The Saints Row reboot was revealed earlier this year at the Gamescom Opening Night Live. It had a release date of February 2022, but that's now obviously shifted according to development needs.
The response from fans to the delay is in line with what the industry has come to expect from delays in a post-Cyberpunk 2077 world. Fans would rather have a game that's deemed as done by the developer over something that's been rushed out to meet an arbitrary date.
Q1 2022 is already absolutely packed with big games coming out, including Dying Light 2: Stay Human. This delay will ensure that there's still something to look forward to towards the end of the year as well, even if the wait will be long.