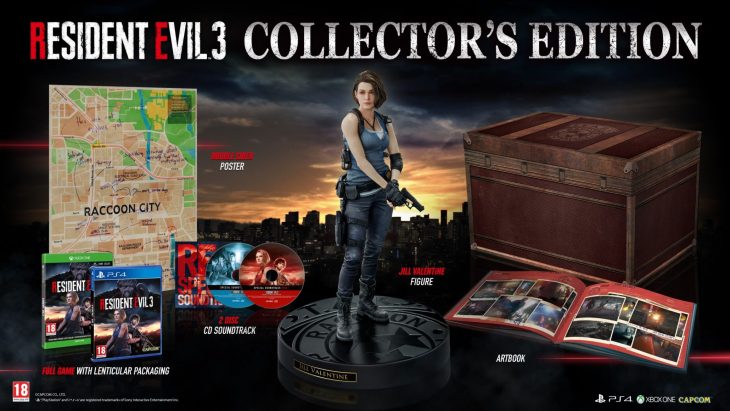 The collector's edition of Capcom's upcoming game Resident Evil 3 Remake has been confirmed for a European release. Previously the collector's edition was only available from retailers in the US.
The Resident Evil 3 Remake Collector's Edition is proving to be incredibly popular, and has already sold out on UK retailer GAME's website. This has led to some fans asking for more units to be made available. No word on if more will become available has come from Capcom yet. Hopefully more copies can make it to GAME at least before the game launches on the 4th of March.
This collector's edition is the largest version of Resident Evil 3 Remake available for purchase. It includes a collector's box with a design based on the item box from the Resident Evil games, a double-sided poster, the game's soundtrack over 2 CDs, an artbook, a copy of the game with lenticular packaging, and a Jill Valentine figurine.
Resident Evil 3 Remake is the first remake or remaster of Resident Evil 3 Nemesis since it launched in 1999. This is the only game that, until now, had not seen any sort of upgrade, but Capcom has taken the step to fully remake it given the success of Resident Evil 2 Remake.
In Resident Evil 3 Remake players will explore a completely reimagined story. Jill Valentine is still at the heart of the game, but now things will play out a little differently. The game's main antagonist, Nemesis, will still hunt players throughout the game, but his role has been altered slightly to make him much scarier, and more present in every space the player explores.
Resident Evil 3 Remake also includes a multiplayer mode, Resident Evil: Project Resistance. This multiplayer version of Resident Evil pits four players trying to survive a maze of rooms against one mastermind player controlling the traps and enemies in those rooms. The survivors need to escape within the time limit, and masterminds need to stop them from doing that.
Survivors each have special abilities that make them powerful in certain situations, but mastermind players have a plethora of weapons at their disposal, from camera guns, to Mr X himself.