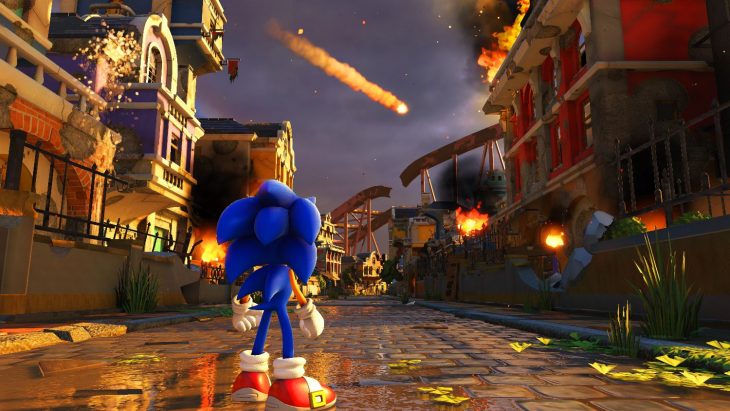 This week SEGA revealed their latest Sonic game as Sonic Forces. Up until now the project has simply been known as Sonic 2017, but now we have concrete details on what the game is and what platforms it will come to.
The gameplay reveal video for Sonic Forces shows Sonic dashing at high speeds through a city under siege by a giant robot, as smaller robots or similar shape attempt to prevent Sonic from saving the city. These robots bear a resemblance to those from previous Sonic titles, and are work of Dr. Robotnik, or Eggman as he's become known in the Sonic universe.
The way the camera follows Sonic around the level, even as he performs jump attacks on robots and around the level, is reminiscent of Sonic colours and the Sonic Adventure games for the Dreamcast and Gamecube.
The last time a Sonic game was set in an urban setting such as a city was the Sonic the Hedgehog game for Xbox 360 and Playstation 3, and was met with a very poor reception. Part of the reason for this was that Sonic looked so out of place next to humans in the game, a mistake which hopefully won't occur again in Sonic Forces.
Sonic Forces will include two versions of the protagonist, a 3D and a 2D version much like Sonic Generations, released in 2011. However, it's likely that the game will simply contain levels in 2D and 3D, with different character models being used depending on the style of the level. Many Sonic fans dislike the 3D games that Sonic Adventure spawned, but there's a large audience for these just the same. Sonic Forces looks to please both sets of fans, providing a nostalgic hit for long time Sonic fans as well as those who only recently started playing the series.
Sonic Forces is set for release in the Holiday season of 2017 for Nintendo Switch, Playstation 4, PC, and Xbox One. A 2D entry for the series, Sonic Mania, is also planned for later this year after being delayed by SEGA until Summer 2017.
Related Topics:
SEGA
,
Sonic
,
Sonic Forces
---