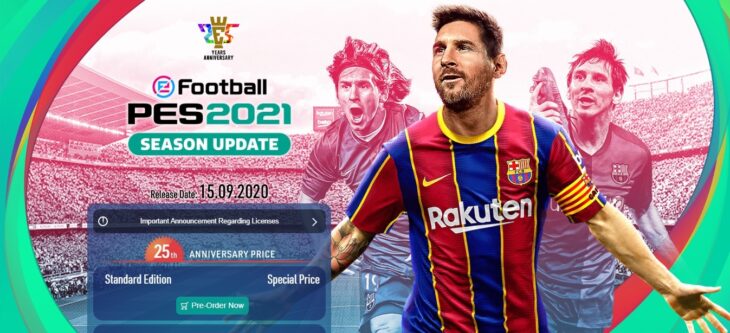 Konami has announced another dramatic change to its long-running football franchise. The Pro Evolution Soccer (PES) branding has now been dropped entirely in favor of the eFootball brand. The franchise will now also be moving to a free-to-play model.
Konami confirmed that it will be launching the game later this year as a digital-only product that it plans to expand upon over time. This is a huge shift from the yearly release model that the franchise has stuck to for so long, but in reality, it makes sense if the games are to retain fans in the long run.
The new game will still be developed by the PES team, Winning Eleven. The game is also a rebuild of the traditional PES model, but this time in the Unreal Engine. It'll be launching across all major platforms such as PS4, PS5, Xbox One, Xbox Series X/S, and PC this year, coming to mobile devices some time after that. The title will support crossplay between all platforms, though mobile functionality may vary.
The first roadmap Konami has revealed shows regular feature updates, online leagues, esports tournaments, a team building mode, and even mobile controller support, all said to hit the game before winter 2021.
As for expanding the game, future additions will be made via optional DLC that players can purchase. This is exactly how most big MMOs model their content. Whether Konami will charge for something simple like team player database updates and upgrades to each year's seasons remains to be seen.
The game will offer a fantastic alternative to EA's FIFA Ultimate Team. Konami is pitching its game as fair and easy to get into, while EA's entry is known to force players to purchase loot boxes and has been condemned by many.
FIFA will, of course, retain most of the major football licenses. However, Konami's entry will have FC Barcelona, Manchester United, Juventus and FC Bayern, as well as specific players like Neymar Jr. and Lionel Messi as brand ambassadors.
Konami's football series has been on hold since 2001 prior to the rebranding to eFootball in recent years. The games were always competing against a giant with FIFA, but some entries, such as PES 3, are still regarded as far better than the FIFA titles that were released at the same time.
Winning Eleven has the pedigree to make a fantastic football game that can go the distance and retain a player base for years to come. However, many will be disappointed that there isn't going to be a new physical release with a cover star each year.