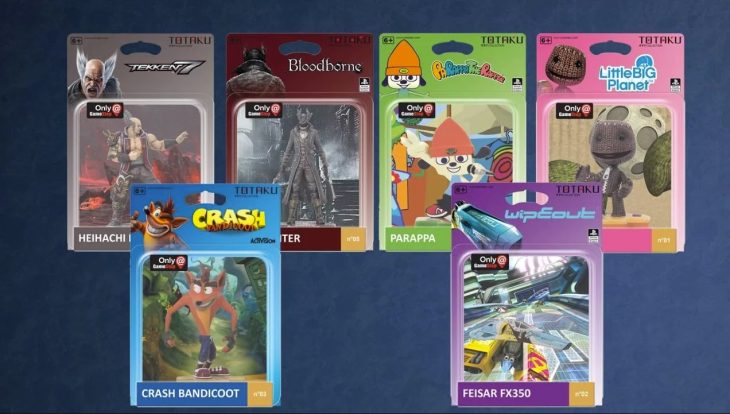 A brand new range of of collectibles has been announced by PlayStation which will feature figurines of the biggest heroes from some of the most popular PlayStation game series.
The new range of collectibles is called Totaku, and will feature seven different figurines at launch. The initial seven figures are; Sackboy from LittleBigPlanet, Heihachi from Tekken, Feisar FX350's ship from WipeOut, Parappa the Rapper, Kratos from God of War, Crash Bandicoot, and the iconic Hunter from Bloodborne.
The figurines will be exclusive to GameStop in the US, manufactured by ThinkGeek. Each collectible figure will cost $9.99 (about £7), and will be sold through retailer GAME in the UK, as well as in stores in Spain according to their website.

The new range from PlayStation will launch on March 23rd with the outlined retailers. The figurines enter the market space currently occupied by Nintendo with their wide range of Amiibo figures, but Nintendo still have the upperhand when it comes to the benefits to the buyer from their products.
Amiibo figurines are a lot like the new Totaku range from PlayStation, but owners are able to use Amiibos to unlock additional content that will help them in-game with Amiibos. The benefits from Amiibos vary from game to game, with some only working exclusively with the game they are related to, and others allowing players to use all Amiibos with varying results, such as Skyrim for the Nintendo Switch.

Currently the only way to acquire anything similar to the Totaku range for a PlayStation game is to buy a collector's edition that features one. However, these collector's editions are often quite expensive, and the figurines are never made to the standards of purpose made collectibles such as Amiibos.
While the Totaku range don't seem to be anything more than collectibles for die hard fans, they do offer players the chance to own a figurine for their favourite game without spending a fortune. One of the main problems with buying collectibles in collector's editions is the price tag, and even Amiibos can see their price double within a few days due to the limited number manufactured and released by Nintendo.