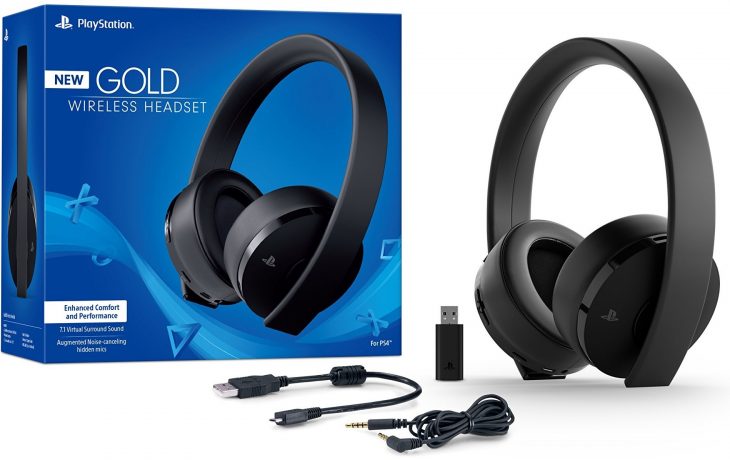 Sony has announced that their Gold Headset is getting a redesign, making it the first new iteration for the product since March 2011 when it launched.
The Sony Gold Wireless headset was a more affordable wireless headset for PlayStation owners who wanted to be able to play their games wirelessly and stylishly. Now the product is getting a redesign to bring it more in line with the Platinum Wireless Headset, a superior product with more features built in, as well as the now discontinued Pulse Headset.
The new design sees the blue highlights removed and the entire product slimmed down whilst also making it sturdier. The result is a headset that looks far more modern, without any note of gaming apart from the small PlayStation logo on each side.
The only noteworthy new feature on the headset are the hinges that allow the product to be folded up for easy storage, like most other wireless headsets on the market. However Sony Marketing Manager Steve Schwartz wrote in an official blog post that the ear cushions are now far more comfortable, allowing for longer gaming sessions that won't lead to aching ears. He also said that the headsets includes 7.1 virtual surround sound and a noise cancelling microphone.
The headset comes with a USB dongle which makes it compatible with devices other than the PlayStation 4, such as the Nintendo Switch, but it also has a 3.5mm audio cable specifically designed for PlayStation VR compatibility, and mobile gaming. The new design makes the headset lightweight and therefore easy to wear over the PlayStation VR headset to make for a far less cumbersome experience.
Sony boast that with this gamers will be able to hear games as developers intended with use of the Headset Companion App, featuring a number of different audio modes. The new headset will be available in the next few weeks according to Schwartz, but there's still no word on whether the other Sony headsets will be getting a redesign as well. The Silver, Gold, and Platinum headsets all bear names of PlayStation Trophies, but it seems as though the Gold headset will be the only one worth investing right now.