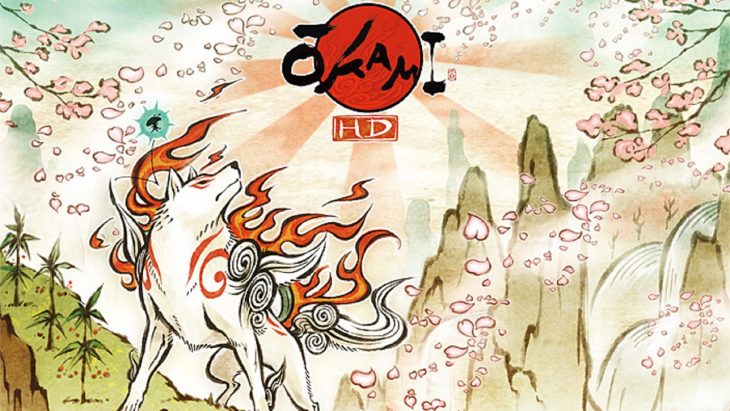 The critically acclaimed Okami launched in a brand new HD version for Playstation 4, Xbox One, and PC via Steam.
Okami is an action adventure game in which players take on the role of Ameratsu, an ancient spirit god in the form of a wolf. Throughout the game players must explore a vast number of dungeons as well as wide open spaces, the latter of which they must return colour and life to with Ameratsu's ability to use the power of gods the player has met by drawing symbols. Players had to literally draw using the joystick in order to progress, and these skills were even more useful against the range of bosses in Okami.
The title is filled with weird and wacky characters as well as very serious concepts, bosses, and lessons. Okami really comes to life when players explore however, with each hand drawn piece of scenery drawing the eye to a new detail every time a player passes through somewhere.
Okami originally released in April 2006 for Playstation 2 in Japan and North America, coming to Europe and Australia a year later in April 2007. The game was met with high praise and positive reviews, but the developers Clover Studio unfortunately closed in the months following the launch of Okami in an effort from Capcom to improve efficiency.
The game was originally slated for release on the Nintendo Gamecube, but instead only reached a Nintendo console in 2008 with the Wii version, which was developed by Ready at Dawn, Tose, and Capcom in unison. The Nintendo Wii controller, the Wii Remote, benefitted massively from the combat system used in Okami because of the number of precise drawings required to pull of special moves.
Okami has been re-released in HD before for Playstation 3 in 2012. The new system breathed life back into the game with the help of achievement-based trophies and the ability to use the Playstation Move controllers in order to play the game with the same feeling of the Wii version.
This latest version of Okami is the first time the game has been accessible to Xbox and PC players. While those on Xbox One will have a similar experience to Playstation 4 players, on PC players will be able to draw with a level of unrivalled accuracy that should make it even more fun to play.