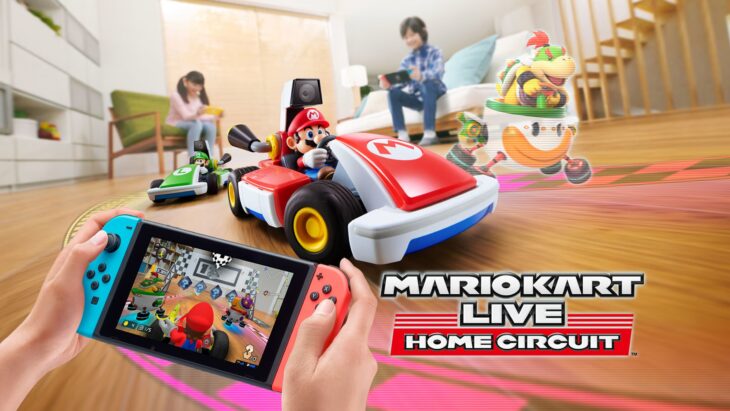 Nintendo UK has just announced that they will be offering a choice between two free games for anybody who purchases a Nintendo Switch OLED this Christmas.
From Friday, December 9th, gamers will have the option of choosing between The Legend of Zelda: Skyward Sword HD or Mario Kart Live: Home Circuit for free, if they buy a Nintendo Switch OLED console from the Nintendo store.
The deal goes live this Friday at 7 am and is set to run for the rest of the year, or for at least as long as stocks last.
The Legend of Zelda: Skyward Sword HD is a remaster of the original Nintendo Wii game and was re-released back in July 2021 to positive reviews.
With many people missing the initial release back in 2011, fans of the series were excited to have a second chance to play the game. This time with HD graphics, a 60fps frame rate, and more responsive controls.
Mario Kart Live: Home Circuit on the other hand, is something completely different and unique to gaming.
Based on the same premise of classic Mario Kart racing, Mario Kart Live: Home Circuit sees players controlling a real-life toy kart with their Nintendo Switch, in a unique mix of video game and reality.
The game was created in celebration of the 35th anniversary of the Super Mario franchise and sees players racing radio-controlled toy cars around their house while streaming from the onboard camera directly into the game.
It features over 20 racetracks spanning 8 Grands Prix competitions. These tracks vary greatly, while at the same time, remain true to the roots of what makes Mario Kart so beloved by fans.
Each track also contains an assortment of environmental themes and in-game hazards that will actually influence the performance of your kart in real life too.
At times, the toys-to-life experience can feel like magic, however, it should be said that it requires a sizable playing space to perform at its full potential.
Nintendo hopes that the announcement will tip the scales in its favor and take the top spot in the UK best-selling console charts by the end of the year.
Recent reports show that the Nintendo Switch, PlayStation 5, and Xbox Series X/S are all currently neck-to-neck with only 20,000 units being the difference between the three consoles.
With the Nintendo Switch recently losing out to the PlayStation 5 for most consoles sold, will this offer of a free game prove to be the move they need to reclaim the title of no. 1 console in Europe?