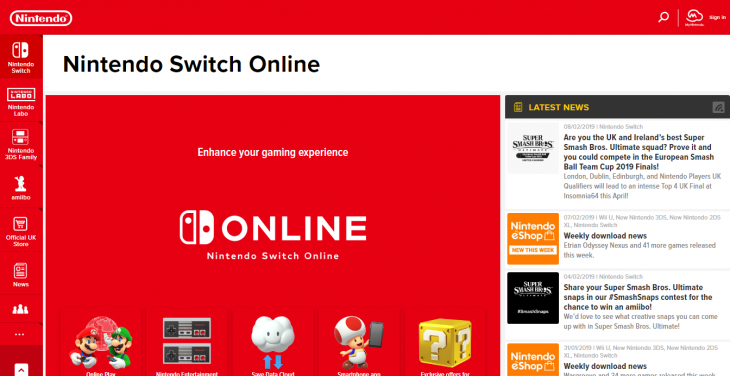 Nintendo have revealed that 9.8 million Switch users have thus far subscribed to the Nintendo Switch Online service. Given that Switch Online has only been in operation for six months (it was launched in September 2018) this represents a very healthy beginning to life for the service.
Much like Sony's PlayStation Plus and Microsoft's Xbox Live services, the headline feature of Nintendo Switch Online is that it allows gamers to play and compete with others over an internet connection. It is, however, priced at a more accessible rate than its rivals – only $19.99 for an individual annual membership and less than $40 for an annual "family membership" that allows for up to eight consoles to be registered under a single membership.
Other features of Nintendo Switch Online include the ability for gamers to back up Switch save files to cloud servers (enabling save games to be played on different Switch consoles), access to a smartphone app that allows for voice chat in compatible games and exclusive offers available only to members.
An increasing number of NES games are also available to play on Switch Online. It is here, however, that the service perhaps lags behind its Sony and Microsoft equivalents, which allow users to stream a select library of current console generation games.
Nintendo initially seemed reluctant to dip their toes into the world of online gaming with the Switch. One of the few criticisms of the console at launch was the limited number of network features available. It would appear to be good news for gamers and Nintendo alike that the Switch Online has enjoyed such a successful launch as it will surely encourage the Japanese giants to continue to explore online options for games.
Nintendo Switch has, to date, sold 34.74 million units – more consoles than the iconic Nintendo 64 shipped in its lifetime. The uptake figures for Nintendo Switch Online suggest that it will continue to grow.