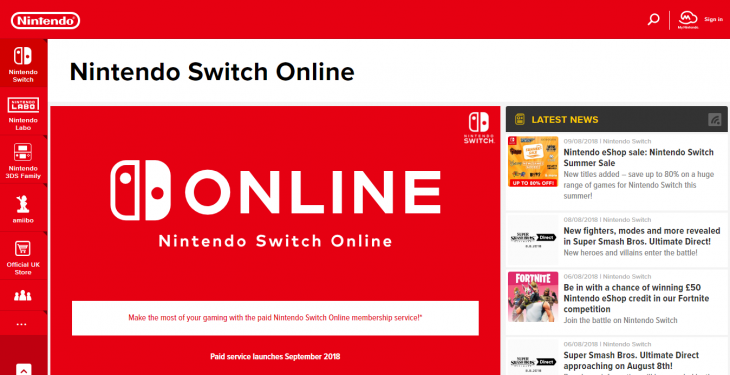 Nintendo have announced that the Nintendo Online service will start in September 2018, requiring Switch players to pay in order to play their games online.
Nintendo Online is a similar subscription service to Xbox Live Gold and PlayStation Plus. Subscribers will be able to play their games in online multiplayer, and gain access to a range of additional benefits.
In addition to being able to play their games online in multiplayer matches, subscribers to Nintendo Online will also be able to access a growing library of Nintendo Entertainment System games with added online features. The additional online features are listed as leaderboards and even added multiplayer, which seems incredible for fans of classic NES games.
Nintendo Online subscribers will also be able to back up their console save data to a cloud server. This benefit isn't compatible with all software, meaning it may not be possible to back up save files for certain games. However, the feature will be very helpful for those who need to delete games in order to free up storage on their console, allowing them to return to their saved game whenever they want.
The Nintendo Switch Online tablet and smartphone app will be available to subscribers, helping them enhance their online experience in playing Nintendo Switch games online. Only certain games will feature app compatibility, but it's likely big multiplayer titles such as Splatoon 2, FIFA 19, and Smash Bros. Ultimate will include this functionality.
All Nintendo Online subscribers will also be given the chance to enjoy offers that are exclusively available to them. These offers will no doubt include additional discounts for games, much like PlayStation Plus subscribers receive for their membership. However, it has not been confirmed yet whether any exclusive demos or free Nintendo Switch games will be included as part of this membership feature.
The cost of Nintendo Online membership is set at £3.49 for 1 month, £6.99 for 3 months, and £17.99 for 12 months. There is also a family membership, costing £31.49 for 12 months, which allows a group of up to eight users to enjoy Nintendo Online under one membership. While this service is cheaper than Xbox Live Gold and Playstation Plus, without the offer of free games for Nintendo Switch each month it still doesn't meet the competing services in terms of content.