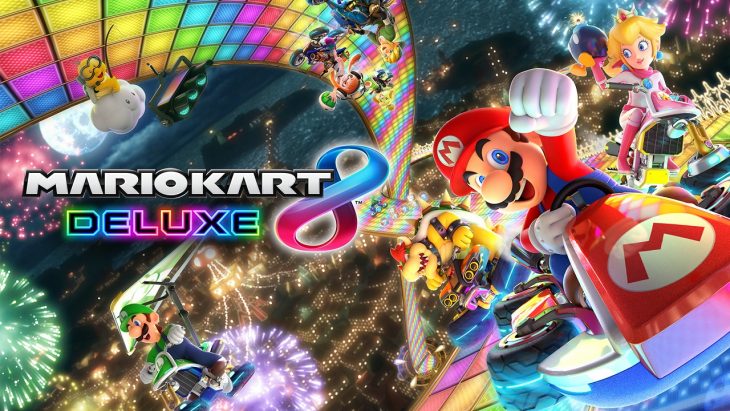 According to initial sales figures, Mario Kart 8 Deluxe Edition for the Nintendo Switch is the fastest-selling Mario Kart game in the history of the franchise. On launch day alone the game sold a combined 459,000 copies from packaged and digital sales in the US.
This number equates for a 45 percent attachment rate, meaning almost half of all Switch owners in the US now own Mario Kart 8 Deluxe Edition, and purchased it on the day it became available. To date 2.7 million consoles have been sold globally, and given these sales figures and attachment rate we can see that roughly 1 million of those are in the US. The game also took the top number 1 of the UK's retail and wholesale charts on the first week of its release.
Previously Mario Kart Wii held the title of fastest-selling Mario Kart game with estimated sales of 433,900 is the US when it launched in 2008 to a multitude of Nintendo Wii owners. Mario Kart 8 Deluxe Edition has been eagerly awaited by Switch fans as it is one of the few triple A titles currently available for the console. Before Mario Kart released the next triple A title was The Legend of Zelda: Breath of the Wild.
Mario Kart 8 Deluxe Edition has received better review scores than any other Mario Kart games, with a current Matacritic score of 93. This makes it the highest-rated Mario Kart game in 15 years, which is tied with the review scores for Mario Kart: Super Circuit, released for Game Boy Advance.
The Switch's release schedule is gaining momentum with Mario Kart 8 Deluxe Edition, with more games on the way such as Minecraft: Nintendo Switch Edition, launching on May 11th, Ultra Street Fighter II: The Final Challengers, launching May 26th, ARMS, launching on June 16th, and Splatoon 2 which launches on July 21st.
Mario Kart 8 Deluxe Edition is the improved version of Mario Kart 8, which released on Wii U in 2014. It includes all the DLC released for Mario Kart 8 over the last couple of years, including new characters and tracks for the game that players can race on in single player or against each other online.