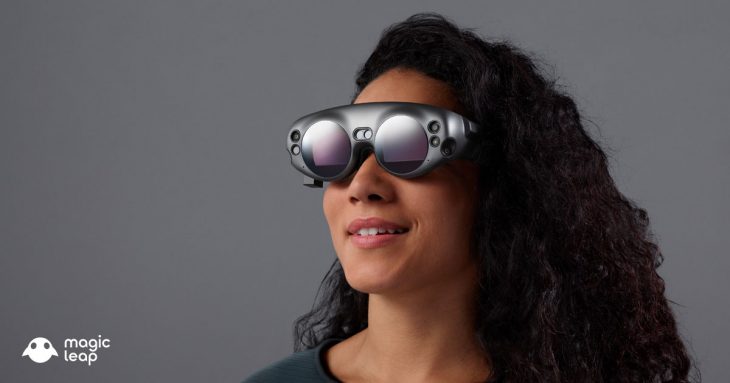 Over three years after Magic Leap first released a teaser video for their augmented reality glasses the final product has now gone on sale for $2,295. The company have been invested in by AT&T, the Saudi state, and Google for a total of around $2.3 billion in order to bring the project to life.
Currently the product, the Leap One, is targeting artists and software developers. The unit uses graphics overlaid on the user's vision, requiring a wired connection to a small computer and a handheld controller in order to function. According to users the edges of the field of vision are still visible and can detract from the experience.
While the Leap One might seem like it has a steep price tag it's far cheaper than Microsoft's competing product, Hololens, which is currently available for around $3,500.
Many tech influencers had their doubts as to whether Magic Leap would ever bring a product to market, and while they have achieved that in the Leap One many are suggesting that the technology has a lot of room for improvement.
A preview from Verge stated that the edges of the field of vision glowed at times, and some images and text appeared fuzzy to them while using the Leap One. They also pointed out that, at times, content became transparent, making it hard to make out and understand as part of the experience. Animations are said to be generally good, as is tracking, but both can present issues and cause the experience to freeze at times.


CNCB's preview noted that large images, or objects very close to you while using the Leap One, can be hard to make out. They said that it was an impressive prototype but that it would take years for a version that's good enough for public consumption to be developed. They added that the device would need to provide limitless vision for all of the TV shows, movies, and games a user could want to view.
The Leap One Creator Edition, currently available, uses its own operating system as opposed to one of the more commonly used ones such as OSX or Windows, LuminOS. The web browser is different than others because it is spatial, meaning it has multiple views where videos and other objects can be displayed for the user.
The device can fully immerse the user in an undersea world with passing fish and sea monsters, as one app does, or use objects in the real world to create a stage for dinosaur fights like another does. A video game is promised for Magic Leap later in 2018 which will see robots attempting to overtake the room.
Currently Leap One is only available in cities in the US, because Magic Leap want to provide a personal set-up service which includes fitting and advice about where the device can be used in the household.
Rory Cellan-Jones, Technology Correspondent for the BBC said that he believes the moment for what the Leap One offers may have passed. There are already a number of devices on the market that provide cutting-edge virtual reality experiences, both on PC with the Oculus Rift and HTC Vive, on console with PSVR, and even as standalone units with Oculus Go and Google Daydream.
There are even already technologies offering similar functionality for businesses already in action, such as Hololens from Microsoft, and Toshiba's smart glasses which provide hands-free video instructions to gas engineers.
However, the Leap One is said to be comfortable despite the size, and the ability to view additional objects whilst watching a video does have advantages. For example, users are able to watch basketball game whilst analysing the statistics of each player on screen.