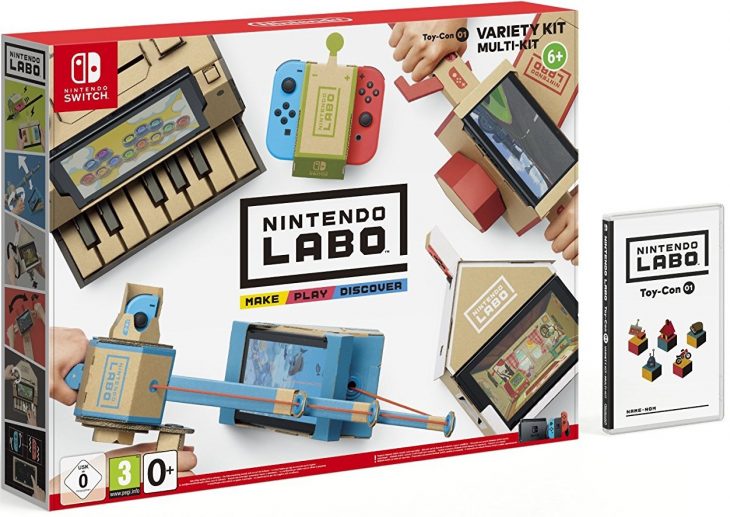 Nintendo Labo released last week to positive reviews from critics and consumers who thoroughly enjoyed playing with it. However, sales reveal that Nintendo Labo only sold 30 percent of the initial shipment in Japan.
Media Crate have revealed some interesting information regarding the sales of Nintendo Labo. they detail that the Variety Kit for the new title sold 90,410 units in Japan, and the Robot Kit sold 28,629 units. This is a fairly good launch for educational accessories, but it seems as though only 30 percent of the initial shipment were sold in Japan.
According to Media Crate the release of Nintendo Labo also had no effect on the sales of Nintendo Switch consoles in Japan either. Given that the Nintendo 3DS is still Nintendo's most popular console in Japan it looks like there hasn't been enough of a push to increase the Switch's foothold.
Nintendo could have shipped an excessive number of units to Japan in order to avoid dealing with any stock shortages in the future. The Nintendo Switch had many issues last year with retailers selling out of their stock allocation, which is something Nintendo would definitely want to avoid happening again with any product.
Media Crate urge people to watch the sales of Nintendo Labo over the coming weeks. With several bank holidays taking place from the end of April into the end of May there's plenty of time for parents to purchase Nintendo Labo for their children when they have the time to use it. Fun activities for school holidays aren't always easy to come by, and Nintendo Labo is designed to be used for educational purposes in many ways, not least because of the simply programing it's possible to be creative with.
While it's still too early to tell if Nintendo Labo will be a success it's obvious that critics and influencers had lots of fun with it prior to release. Many different creations can be found around various games press websites, including music videos of songs made using purely Nintendo Labo. The true indication of Nintendo Labo's success will come from what children are able to create with it on their own, and whether they're impressive enough to make it into mainstream media.
Other titles in the Japanese charts on April 16, 2018 – April 22, 2018:
1. Nintendo Labo Toy-Con 01:Variety Kit (Nintendo Switch)
2. God of War (PS4)
3. Nintendo Labo Toy-Con 02:Robot Kit (Nintendo Switch)
4. Kirby Star Allies (Nintendo Switch)
5. Splatoon 2 (Nintendo Switch)
6. The Snack World Trejarers Gold (Nintendo Switch)
7. Metal Max Xeno (PS4)
8. Mario Kart 8 Deluxe (Nintendo Switch)
9. Metal Max Xeno (Playstation Vita)
10. The Legend of Zelda: Breath of the Wild (Nintendo Switch)