Cory Barlog, Creative Director at Sony Santa Monica Studios, has written a post for the official Playstation Blog announcing that the next God Of War game will release on April 20, 2018.
After a product listing for the Collector's Edition of God Of War was found on Amazon with a release date of April 20th fans began to suspect that the next installment in the God Of War series would be releasing earlier than the originally stated date of June 30th. Now Santa Monica Studios has confirmed that the game is releasing earlier than anticipated, much to the delight of PlayStation fans around the world.
The announcement came with a brand new trailer for God Of War which shows some more details about what players will be doing in the game, as well as more of the new setting for the first game taking place outside of Greek Mythology.
Barlog announced more than a new release date for God Of War in his blog post however, new pre-order bonuses and additional content have been confirmed. Players who pre-order any edition of the game at a supporting retailer will get three legendary shield skins for Kratos. Those who pre-order at GameStop or EB Games will also get the Luck of Ages XP Talisman, which improves the wearer's luck, granting an increase in XP gained, an increase in Hacksilver gained, and an increase in the ability to trigger Perks.
There are now three confirmed editions of God Of War that customers can pre-order. The Collectors Edition contains the base game, a 9 inch Kratos and Atreus Statue, a steelbook case, two Huldra Brothers carvings, an exclusive lithograph, and a cloth map. This edition costs $129.99/$169.99 (CAD).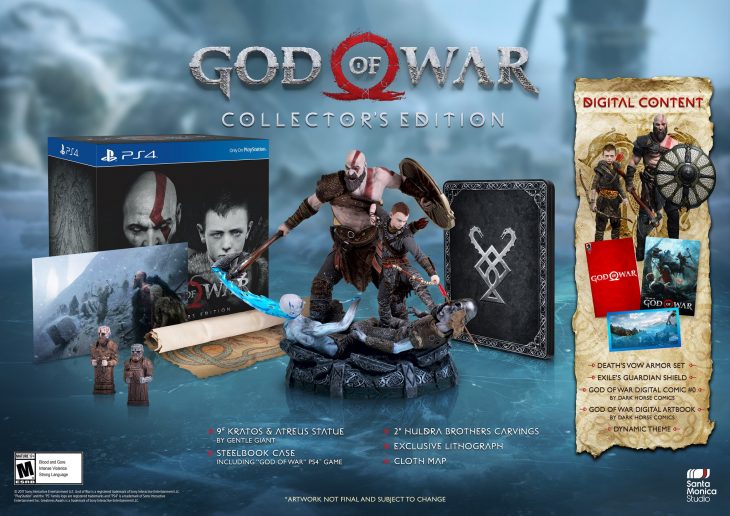 The Stone Mason Edition has the same contents as the Collector's Edition with the following extras; the stone mason's ring, Mimir's head talking keychain, 2 Norse and Troll carvings, and the Defender of the Chosen Shield downloadable content.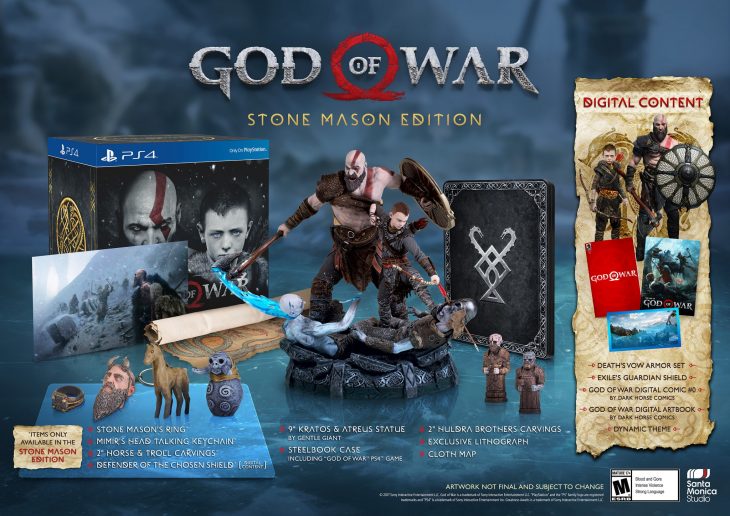 Finally there is the Digital Deluxe Edition which contains; the base game as a full download, a digital God Of War artbook by Dark Horse Comics, #0 of the Dark Horse God Of War comic series, a dynamic theme for Playstation 4, Death's Vow armour set, and the Exile's Guardian Shield. Anyone in the US or Canada who pre-orders this edition will also receive the Kratos and Atreus physical pin.