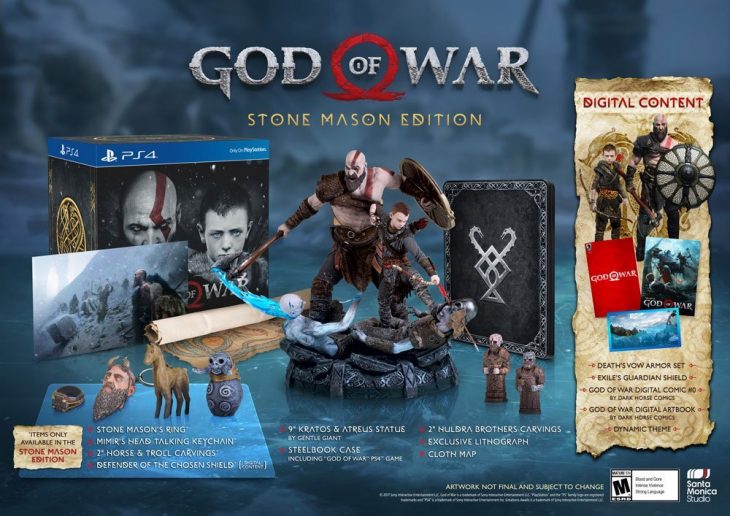 Amazon US has potentially revealed the release date for the latest God of War title as well as the price for a new collector's edition.
The collector's edition of God of War, also known as the Stone Mason Edition, was originally revealed as containing the following content; the full game God of War, a nine inch Kratos and Atreus statue made by Gentle Giant, a steelbook case, a Two inch Huldra Brothers carving, an exclusive lithograph, a cloth map, a stone mason's ring, Mimir's head talking keychain, and a two inch horse and troll carving. It also has the following digital content; Defender of the Chosen Shield, Death's Vow armour set, Exile's Guardian Shield, #0 of the God of War Dark Horse digital comic, the mini artbook for God of War from Dark Horse, and a dynamic Playstation 4 theme.
The Stone Mason Edition has now been listed for $149.99 on Amazon US with the content outlined by PlayStation and has a release date of June 30, 2018. However, another Collector's Edition has been listed with a much closer release date of April 20, 2018 for $129.99, but the image for the product appears to be a placeholder.
The release date of April 20th is much close to what is expected from a God of War game, with most others in the series releasing in or around March. While it's possible that the April release date is just a placeholder, much like the image for the product listing, it could also show that there are multiple collector's editions of the new upcoming God of War.
More and more games are taking advantage of the early months of the year for releasing their games because not many release in the period from January to March. Both Resident Evil 7: Biohazard and Dying Light both proved that releasing early in the year can get buyer's attention, maybe God of War will as well in 2018.
God of War is an upcoming third person action title, the eighth in the God of War series. This game is set to change the setting for the first time, removing protagonist Kratos from Ancient Greece where he destroyed the gods on Mount Olympus, and into Asgard, the resting place of the dead in Norse Mythology. In the new title Kratos is portrayed as a much gentler person who is also now responsible for a child, his son.