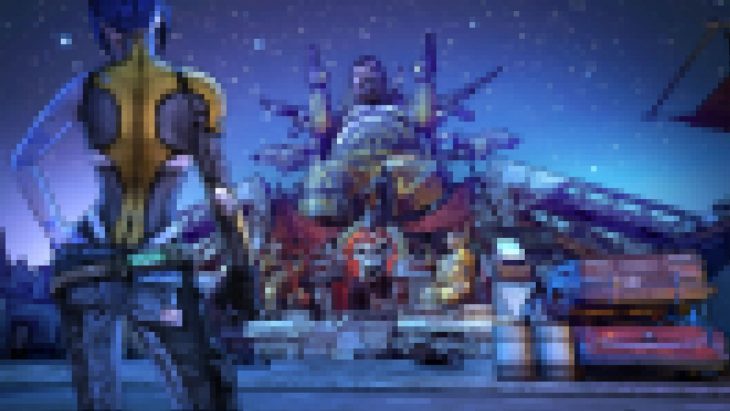 Earlier in the week Gearbox Software released an image teasing a new game they would be revealing at PAX East later in the month, in Boston. The image heavily hinted at a third entry to a series, and the aesthetic seemed to indicate that this title would be set in the Borderlands universe. Now Gearbox Software have released another teaser image, which looks incredibly similar to previous Borderlands titles.
The new teaser image shows what appears to be a Borderlands character staring off into the distance at a large structure. This structure could well be a huge machine enemy, which wouldn't be unexpected given the previous enemies in the Borderlands series.
The major difference with this image is that it's very pixelated. This obscures both the character and the creature or structure in the distance, making it hard to tell exactly what the teaser is for.
Alongside the image reveal today Gearbox said that this was a teaser for another game. This hints at the company revealing more than one game at PAX East. Given that Gearbox is also a game publisher this could be a title they're publishing but haven't been developing in-house.
In the past Gearbox have published We Happy Few, a first person title that had heavy Bioshock influences and felt very much like another game in the series, and Bulletstorm: Full Clip. Bulletstorm: Full Clip was the remastered version of Bulletstorm, an intense yet funny shooter with a focus more on killing enemies in a variety of ways over killing sheer numbers of them.
Fans have been waiting for Borderlands 3 for a very long time, but even if Gearbox reveal it this year it may not release until 2020. However, with the recent release of Borderlands 2 VR it seems likely that Gearbox are trying to stir the franchise's community, as well as a renewed interest from other potential fans.
A number of shooters are set to take centre stage this year, including Halo Infinite. Among an already crowded genre, Borderlands 3 will have to be doing something drastically different to stand out from the crowd. The franchise's usual trick of cramming in more weapons than any other shooter may not be enough this time around.