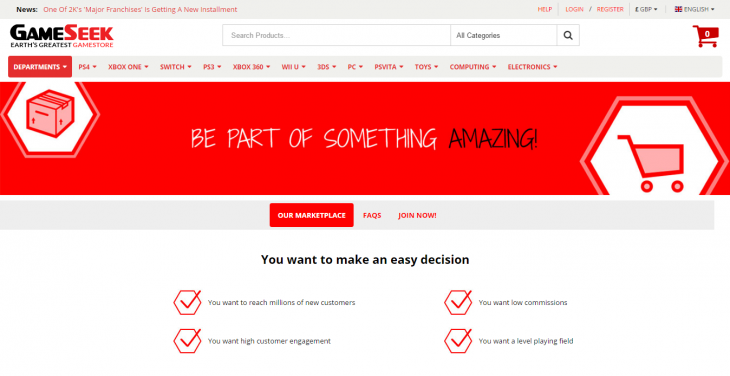 The online retailer GameSeek is being rebuilt as what the CEO and MD, Stephen Staley, is calling the best e-commerce games site on Earth.
The online video game store is being rebuilt from scratch in HTML5. The new site will be far more dynamic, with features being added over time, beginning with the Gameseek Marketplace. This new feature is a place where individuals and retailers can sell their products, whether they're related to video games or not. The real advantage to this new feature is that products will be presented to Gameseek's established user base of more than 2 million customers.
Gameseek Marketplace launches on July 31st, and will offer free registration and no monthly fees. The site will charge however a commission on each sale, the amount of the commission will depend on the category of goods sold, and will be either 6% or 10%.
Stephen Staley is confident that Gameseek will become the most visited e-commerce video games site in the UK. Over the years the site has built up a huge gaming community, and now the website will be paying this community for their interaction with it. However, there are no details so far about how customers will be paid for their interaction at this time.
According to Mr. Staley it could take up to four months to implement all the new features, but they're soft launching it now because of how bad, in his opinion, the current website is. Some of the new features have never been seen before in e-commerce, but Mr. Staley is no less confident that Gameseek will become the best video games e-commerce site on Earth.
There are a number of competitors GameSeek faces in its efforts to become the greatest e-commerce site. The UK retailer Game, for example, has just launched a new premium reward scheme in order to provide better rewards for customers who shop with them more than other sites. GameSeek will also be competing indirectly with Amazon and eBay, both websites that allow individuals and companies to sell through their marketplace, both of which serve millions of customers.