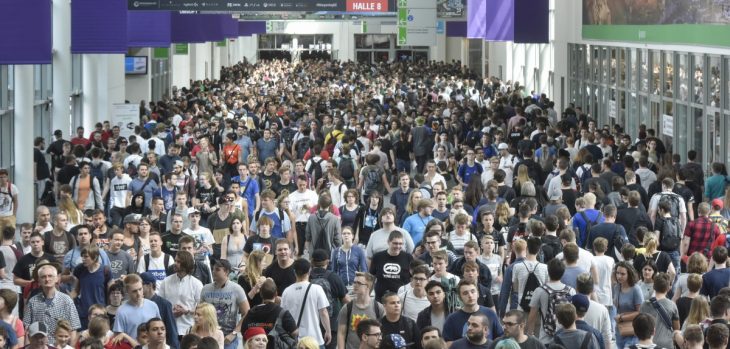 Gamescom 2018 has now begun and the slew of new game trailers and gameplay videos is already filling up the news feeds of many games press sites. The event is used by publishers and developers to reveal new details about their upcoming games, while other companies bring and showcase their new hardware.
Gamescom opened to all visitors today, the 22nd of August, and will run until the 25th of August, four days in total. However, the event was open to trade visitors and the media from Monday the 21st of August, with a limited number of general public visitors allowed into the Entertainment area on the 22nd. The general public visitors allowed into this area are decided by the event organizers.
Trade visitor tickets cost 48 Euros for a day ticket covering Tuesday, Wednesday, or Thursday, while a 3 day ticket that's valid from Tuesday to Thursday costs 95 Euros. All Gamescom congress tickets for trade visitors are now sold out. All trade visitors are able to access the event between 9AM and 8PM on Wednesday and Thursday, with the show closing at 7PM yesterday.
Private visitors can access Gamescom from 10AM today and Thursday until 8PM. On Friday and Saturday the opening times shift to 9AM until 8PM. An advance day ticket for today or Thursday currently costs 15.50 Euros, with Friday and Saturday sold out, and children between 4 and 6 allowed in for free. The Box Office price for a day ticket on Wednesday and Thursday is 18.50 Euros, with Friday and Saturday also sold out. Access to Gamescom Congress for private visitors is now also sold out.
Wristbands are being used at this year's event in order to distinguish the age of each visitor, helping the organisers avoid anyone under a particular game's age rating from seeing or playing it. Children up to 12 years old have no wristband, but should be accompanied by an adult. Visitors between 12 and 16 years old must wear a green wristband, and those between 16 and 18 must wear a blue one. Any visitors 18 and over will wear a red wristband. The event organisers are being very careful with the ages of their visitors, requiring photographic identification before a wristband can be issued.
Some parents are happy for their children to see and play games or movies which have an age rating beyond their actual age. While this doesn't affect anyone but the family inside the home, at Gamescom it could lead to some serious issues for both the event organisers and exhibitors, which is why there are such stringent checks this year.