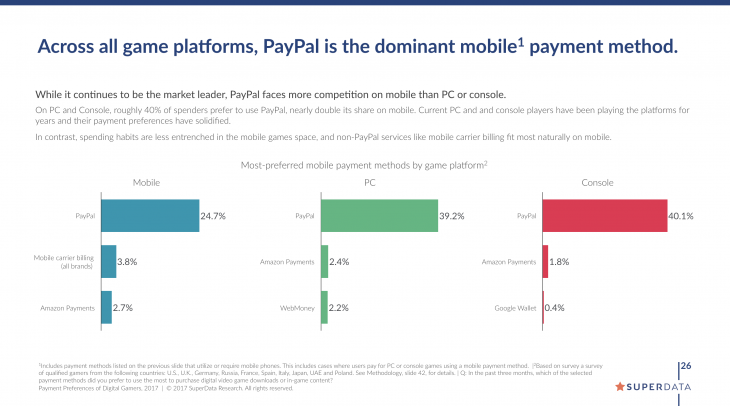 Credit: Superdata
According to research firm SuperData the payment preferences of gamers show that digital revenue for video games will pass $100 billion for the first time in 2018.
SuperData say that the $100 billion will only be available to those retailers who take advantage of the revenue streams gamers prefer to use. Trends show that gamers are opting, where they can, for digital purchasing options as well as more localised payment providers. PayPal has proved as one of the most popular payment methods, alongside Amazon Payments, Apple Pay, and Google Wallet.
On mobile devices, 24.7% of users opted to use PayPal as a way to pay for their games and in-game purchases, with mobile carrier payments down to 3.8% and Amazon Payments at 2.7%. Card payments will still be prevalent as they're easier to associate with a mobile account on iOS and Android devices, but the norm that was mobile carrier payments has dropped significantly.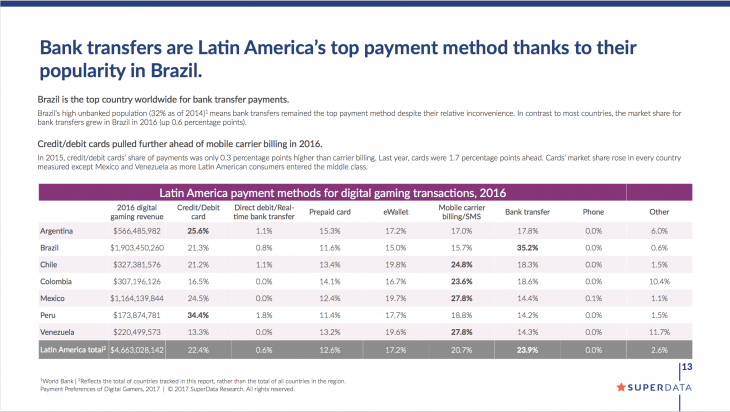 Credit: Superdata
39.2% of PC gamers choose to pay with PayPal, with Amazon Payments at 2.4%, and WebMoney at 2.2%. Finally on consoles 40.1% of gamers opt to use PayPal as their payment method, with Amazon Payments growing to 1.8%, and Google Wallet at 0.4%. With these numbers it's clear that digital payments are on the rise, most likely because they're a more universal way to pay for products.
SuperData is urging retailers to be more accommodating of localised digital payment methods in the future if they want to gain a larger portion of the revenue available. Boleto Bancario, for example, have 27.9% of the Brazilian digital payment market, while Alipay holds 20.8% of the Chinese market.
PayPal continues to dominate the digital sales market, but it's losing its market share. Apple and Amazon are encroaching on the market PayPal controls because consumers already trust them with other purchases. Amazon already process payments for a huge number of products, including books for Kindle, Amazon Music, and Audiobooks, while Apple handle almost all other music purchases. SuperData say that consumers are more likely to use Amazon and Apple payment methods because they are bands they're already happy using, especially over a new third party payment method.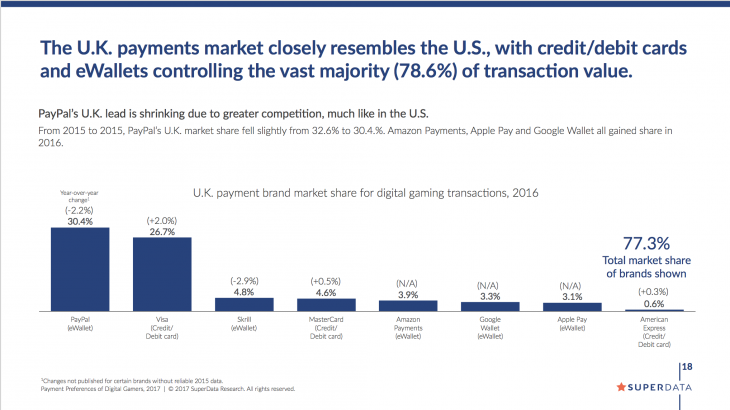 Credit: Superdata
Related Topics:
Digital Distribution
,
Superdata
---